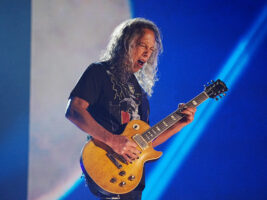 Cesar Geuikian teases Epiphone version of Kirk Hammett's 'Greeny' Les Paul
Being appointed Interim CEO has not stopped Gibson's Cesar Gueikian from returning to his regular programming of teasing gear releases on Instagram.
READ MORE: David Ellefson calls Dave Mustaine "fucking pathetic" for "still bitching" about his exit from Metallica
The exec recently hosted a 'Ask Me Anything' session with fans on Instagram, during which he dropped several pieces of pretty exciting guitar news — such as an Epiphone version of Kirk Hammet's 'Greeny' Les Paul coming down the line.
Image: Cesar Gueikian via Instagram
The iconic 1959 was first introduced as a Custom Shop signature guitar, though a USA Standard edition (now a Gibson core model) has since been released, at a significantly lower price tag ($3,199 instead of $19,999).
And now it appears that fans can expect to see an even more accessible Epiphone version hitting the shelves; fingers crossed that that comes sooner rather than later.
Known for its storied legacy — and equally iconic sound, the Greeny was originally owned by Fleetwood Mac founder Peter Green. The guitar was then sold to Gary Moore, who used it for three decades with Thin Lizzy and as a solo artist, before landing in the hands of Hammett.
Adding to the Greeny's magic is its distinctive sound caused by a neck pickup installed on the reverse. Early recordings of Fleetwood Mac famously feature that 'out-of-phase' tone many have come to associate with Peter Green himself.
The post Cesar Geuikian teases Epiphone version of Kirk Hammett's 'Greeny' Les Paul appeared first on Guitar.com | All Things Guitar.
Source: www.guitar-bass.net