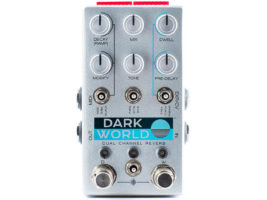 Chase Bliss Audio uncovers the Dark World
A dual-channel reverb inspired by The Legend of Zelda.
Chase Bliss Audio has finally filled in the details of its Dark World pedal. After teasing the reverb unit last week via a quirky trailer, the brand has launched the collaborative effort with Keeley Electronics and Cooper FX.
Chase Bliss Audio founder Joel Korte has revealed in a mini-documentary (which you can watch below) that the pedal's dual-channel system is inspired by the Nintendo video game The Legend of Zelda's "Light" and "Dark" worlds.
The pedal's "Dark" channel was designed by Cooper FX and is based on its Generation Loss and Outward designs. This explains the lo-fi textures and atrophied VHS tape sounds the Dark World is capable of producing. On the other hand, there's the Keeley Electronics-produced "World" channel with pristine "Hall", "Plate" and "Spring" algorithms. When combined, the channels can be routed 33 ways, and both channels can run individually, in series or in parallel.
Where tone is concerned, the Dark World ranges "from subtle, tasteful, and lush all the way to broken video cassette, glitch-shimmer, and infinite-freeze," according to Chase Bliss Audio.
Here's a quick overview of the functions:
"Dark" algorithm: "Shim", "Black" and "Mod"
"World" algorithm: "Hall", "Plate" and "Spring"
Channel operation: standalone, series or parallel
Apart from the comprehensive switch and knob controls on the pedal's top panel, it also features 16 dip switches for use with an expression pedal. Of course, it also has full MIDI compatibility. And last, but certainly not least, you can save presets: two on board, six via Chase Bliss' Faves switch, and 122 via MIDI.
Watch the mini-documentary here:
Retails for $349. More information at chaseblissaudio.com.The post Chase Bliss Audio uncovers the Dark World appeared first on The Guitar Magazine.
Source: www.guitar-bass.net