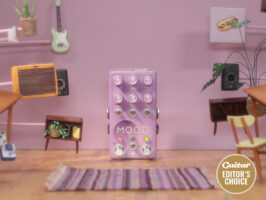 Chase Bliss Mood MkII review: A knob-twiddler's delight
If you're waiting for Chase Bliss to make a three-knob Tube Screamer clone, we hope you're prepared for several decades of disappointment. As we've seen in recent months with the Habit and Generation Loss MkII, the deal here is quirky soundscaping… and the Mood MkII is about as quirky and soundscapey as it gets.
READ MORE: Chase Bliss Generation Loss MkII review: A digital effect to make everything sound extra-analogue
This is a digital pedal of two halves: reverb and delay on one side, and something that can loosely be described as a looper on the other. The unique way in which those two sides feed into other won the original Mood plenty of fans, but this new version steps up the ambition – most notably by adding stereo and overdubbing.
Well, you could argue that the most notable feature of this pedal is actually the fetching lilac shade of its enclosure, a definite improvement on the peachy hue of MkI. But the controls are the same as before: time, modify and a three-way mode switch for the ambient side; length, modify and another three-way mode switch for the looping side; and, along with a master dry/wet mix dial, a 'clock' control that changes the sampling rate of the whole pedal.
As with other Chase Bliss pedals, there's a row of little dip-switches along the top that offer a host of routing and control options – including ping-pong stereo output and, just to make sure everyone's happy, a 'classic' mode that effectively turns the new Mood into the old one.
Before we plug in, a quick word on logistics. The company has its Amsterdam hub up and running now, bringing direct purchasing power to European buyers… but because of a certain event beginning with 'B' that we're not going to mention, it hasn't been possible to include the UK in that system. So for now, pedals are being shipped over from the USA, with Chase Bliss softening the financial blow by paying half of the import taxes.
IN USE
The thing about the Mood's micro-looper is that it's always on. This means that, even if you leave it well alone for a prolonged fiddle about with the ambient side, it will start playing back your notes – not necessarily in the right order, or indeed the right key – as soon as you step on that right-hand footswitch.
The ambient side is plenty of fun by itself, though. The reverb is vast and can be split into flitty grains with a twist of the 'modify' knob, while the ultra-clean delay is an absolute treat in a wide stereo rig. So, what happens when we run both halves of the pedal together?
Depending on where you've got the looper's controls set, interactive oddness arrives quickly. Once you've got a loop going it can be manipulated in pitch and speed, running backwards if you want it to, and different pitches bring out different elements of the loop in a way that's ever so slightly unpredictable.
The clock knob is stepped, zipping around in perfect fourths and fifths (unless you flick the 'smooth' dip-switch for continuous bends), so you can go wild here without worrying about slipping out of tune. You also don't have to worry about background noise – it goes grittily lo-fi at the lowest sample rates, but without adding hiss.
There are plenty more ways to mash things up on both sides of the pedal – most obviously by selecting the slip and stretch modes, with the dip-switches opening up still deeper adventures. But it's the new overdub function that really makes this more than just a cutesy glitch machine, allowing you to add density and depth to loops so they become much more than pretty background sprinkles.
Lots of people will never have a need for a device like the Mood MkII. Plenty more will feel no need to upgrade from MkI. But this is an exquisite little unit, as we've now come to take for granted with Chase Bliss, and it can make magical sounds that you won't find anywhere else.
KEY FEATURES
PRICE $399
DESCRIPTION Multi-mode looping and ambience pedal, made in USA
CONTROLS Wet channel time, modify and reverb/delay/slip switch; micro-looper channel length, modify and stretch/tape/envelope switch; master mix/ramp, clock (sample rate), three-way routing switch, preset/live/preset switch
FEATURES Mono or stereo input and output (TRS, expression/CV and MIDI inputs, 16 external dip-switches; micro USB input for firmware updates; switchable true or buffered bypass, powered by 9-volt mains supply only (270mA)
DIMENSIONS 123 x 73 x 58mm
CONTACT chasebliss.com
LIKE THIS? TRY THESE…
Red Panda Tensor £319
Walrus Audio Fable £305
Vongon Polyphrase £479
The post Chase Bliss Mood MkII review: A knob-twiddler's delight appeared first on Guitar.com | All Things Guitar.
Source: www.guitar-bass.net