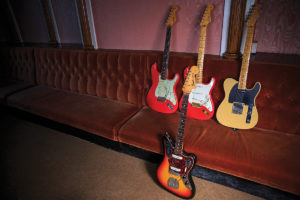 Collection: Dennis Marshall – Marshall Lore
Over the years, Dennis Marshall has amassed a wealth of sonic knowledge with a few tasty guitars along the way. He tells Mark Alexander about his love of twang and realising his dream of bringing tube tones to the masses…
Dennis Marshall is an amp engineer and a guitarist with a love of melodic riffs. From his modest workshop in Fife, he repairs amps and pedals quietly refining his appreciation of tube-driven tone. Mild-mannered and likeable, Marshall is one of those hideaway geniuses who likes nothing better than a good chinwag.
Like the best behind-the-scenes techs, his client list seems almost implausible given his modest workplace. Carlos Santana, Martin Taylor, Ed Sheeran, The Darkness and Simple Minds are all part of a list rich with headline acts who have sought out his sonic wisdom.
Now it's our turn, but before unravelling his guitar collection and delving into his philosophy on amplification, we have to address the large elephant sitting in the room. "No, I'm not related," he says, "but it is awkward sometimes." Marshall, as it turns out, has never worked for, nor has any family ties with the well-known British amp manufacturer from Bletchley.
Indeed, to add to the brand confusion, Marshall was actually Mesa/Boogie's UK amp engineer for 12 years. Despite his rejection of nominative determinism, however, Marshall has certainly had a long affiliation with amps and guitars. He first picked one up in 1960 with Duane Eddy and Hank Marvin providing the inspiration. A Watkins Westminster provided eight watts of amplification for those early endeavours.
Dennis modded his Epiphone Dot with new pickups and a Bigsby
All About The Twang
His guitar collection still reflects that era. Indeed, despite his passion for amps, Marshall has surrounded himself with some choice instruments. Carefully selected and often modified, many hark back to the days when twang ruled. Each one, however, has its role to play and story to tell.
For instance, nothing screams twang like a Fender Custom Shop '59 reissue in Fiesta Red. Purchased in 2011, Marshall's beauty may be a looker but it also hides something special under the bonnet. "The pickups are one of the last sets of pickups Abigail Ybarra wound for Fender before she retired," he explains, "And she very kindly signed them for me. It sounds lovely. It has a very twangy, original Fender sound. It's a lovely looking guitar and it's great to play."
Marshall's 'workhorse' – his Custom Shop '59 Reissue Strat
His workhorse guitar also doffs its cap to the 50s, but with a notable change that goes beyond merely aesthetics. "This is my go-to guitar and one of my newest; I got it about four years ago," he says holding his Fender Custom Shop Strat with rosewood fingerboard.
"Because of the brightness of the maple-neck Strat, I couldn't get the creaminess I wanted. So I went to Guitar Guitar in Edinburgh and they kindly got four different guitars for me to try from their different branches. Of the four, this one jumped out. It is one of 50 limited edition guitars that Guitar Guitar commissioned from Fender Custom Shop. The body and the pickups are '59, but the neck has a compound radius, big frets, the truss rod is adjustable from the headstock, the tuners are locking and it is C-shaped. When you sit it on your lap, it feels like an old guitar, but it plays amazingly well."
Dennis has a big Fender haul including a pair of Custom Shop Strats, a '65 Jaguar and his modded Telecaster
He also admits to a small tweak that he advises only those skilled in the art of guitar fettling should attempt. "I use 0.011 gauge strings with a wound third, which is quite unusual but it gives more tone," he says. "It's not as loud, so you have to compensate by poking up the third-string pole on pickup so it is raised above the others. Tone-wise, it is as close as you get to an original '59 Strat."
To complete the triumvirate of twang monsters, Marshall brings out his 2004 Burns Hank Marvin signature '63 reissue. The distinctive styling and trademark scratchplate are eye-catching, but it's the neck Marshall enjoys most. "Of all my guitars, this is the best player. The neck is fantastic. It plays like a Rolls Royce," he says. "All you have to do is breathe on the strings and they'll play whatever you want."
Marshall's Gretsch has been modded with TV Jones pickups and a Chet-style arm for the Bigsby
Acoustic Heaven
The Burns has been a companion since Dennis bought it in 2013, but a year later he was presented with a Peerless Martin Taylor prototype as part of a potential collaboration with the Korean firm. "They gave me the guitar in order to test out my acoustic preamp. But when I got it, it was a wreck. I spent quite a bit of money getting it all fixed up and then the tie-up with Peerless never happened but I was left with the guitar. Acoustically, it's not great, but through the preamp it is stunning."
The same year, Marshall acquired his 2012 Gretsch Electromatic 5140, which bristles with rock 'n' roll intent after a couple of choice tweaks. "Brian Setzer does a version of one of my favourites tunes, Sleepwalk," Marshall recalls. "I had to do that, so I went looking for an orange Gretsch and found this one. I did my usual and put in TV Jones pickups, which just brought it to life. I also changed the arm on the Bigsby for a Chet Atkins arm because when I'm playing melodies, I like to hold the whammy bar. With that one, you can tuck it under your finger and hold it."
Three of Dennis's vintage amps – a Selmer Truvoice, and a Watkins Dominator and Westminster
Marshall is a man who likes to tinker. His mind is awash with possibilities and arguably his greatest work was carried out on a 2001 Epiphone Dot Special bought on a whim from eBay. "I was looking for a 335 but couldn't justify the cost. So I thought I would buy this guitar and if it was any good wood-wise, I would strip out the guts and put in new electrics. When it arrived, the hairs on the back of my neck stood on end."
"I bought Bare Knuckle pickups to replace the originals," he continues. "But they were loud and took away a bit of the tone. Axesrus produces its own interpretation of the Bare Knuckle blues pickup, and I bought two of those. They suit the guitar so well. They've got tone, but they've got a good bit of guts as well. They sustain. The guitar cost me £250 with a hard case but I've spent three or four times that on pickups, electrics and the Bigsby, and I will never part with it."
Dennis tweaked the circuitry of his Fender Super Champ X2
History In The Making
Marshall's tendency to tweak reached an apex in 2005 when his desire to acquire a vintage Telecaster led him to a '52 Telecaster reissue which he duly stripped and upgraded with '52 Custom Shop pickups. The stimulus for the purchase is almost as compelling as the guitar he created.
"A customer of mine couldn't keep his wives, but he had collected some rare guitars," he explains. "He was about to separate from his fourth wife and he visited me with a tatty old guitar case from which he brought out an original Fender Broadcaster – the real deal, with all the authentic paperwork. It was serial number 162. The neck was signed by TG; Tadeo Gomez, who was an original guitar builder for Leo Fender. It was incredibly valuable and he asked me to keep it for three months because he wanted it out of the way. I fell in love with it. When he took it back, I missed it so much I got a Telecaster neck and body made for the Japanese market by Fender in Japan."
As he was Mesa/Boogie's UK amp repairer for years, this Mini Rectifier is a natural choice
Pickups were accordingly stripped and new units installed, but Marshall wasn't finished there. "I added a tone circuit and changed the pickup selector to a four-way switch, with the fourth position giving the two pickups in series which gives you more volume, which is great for solos. When I took the guitar to shows as a demonstrator, I received more offers for the guitar than I did for the amps. I didn't take any of them. That'll go in my coffin with me."
He says that a lot. You get a sense that Marshall is happy with the guitars he has accumulated; slowly but surely amassing many of his tonal fixations. His 1965 Fender Jaguar embodies this careful stockpile but also adds the value of authenticity to his collection. As a result, it is probably the most valuable instrument in his pool.
Dennis has a small but carefully selected guitar and amp collection
"Since the 1960s, I've wanted a Jaguar," he says reminiscing. "I found this one in Philadelphia from a dealer. The condition was unbelievable, as was the price at $2,000. I thought it was too good to be true, but bought it anyway and sent it to a friend in Las Vegas who confirmed it was the real deal! He sent it to me in bits, because sending it in the case would have been hugely expensive, and I put it back together."
Marshall added a drop-in Mastery Bridge unit, which made a huge difference to the guitar. "It was like night and day," he says. "It brought the whole thing alive. It brightens everything up."
It is the icing on Marshall's cake. "I've got my collection now," he says proudly, "and I don't need anything more. They all sound different, but each one has character. I love my guitars and the tones I can get out of them. As far as I am concerned, there are no holes in my collection. Every tone I want, I've got."
This Peerless Martin Taylor prototype has since been heavily modded by Dennis
Born To Amplify
Away from his guitar collection, however, it's amps where Marshall has really found his passion – and he's spent the last 50 years repairing and perfecting them as a result. His quest started all the way back in 1964 when his school teacher offered to help him build an amplifier if he improved his marks in his physics class. A 30-watt, 2×12 valve combo was duly built. "It was stunning," he recalls, wistfully. "It had an entirely unique circuit that sounded amazing. It was like an AC30 but with more sparkle. It compressed beautifully because it had a valve rectifier, and it was clean with no distortion at all. I've never got that sound back."
Orange is bringing Dennis's Acoustic Pre pedal to the masses
Marshall pursued a career as an electronics engineer but continued to play guitar and bass in bands at night with his musical endeavours leading to a residency in Edinburgh's Telecoms Club. On the tech side, he kept his hand in repairing amps for local music shops and ultimately set up on his own, handling Mesa/Boogie's UK repairs.
He also devised his own amp design based around a high-end guitar preamp that could deliver tube tones direct to a mixing desk. He called it darkblue. "I wanted to hear more of the guitar rather than the amp," says Marshall. "I was looking for something to give me an edge, and that was it."
Dennis created the darkblue valve preamp to give him a guitar tone that wasn't coloured by an amp
Darkblue was first adopted by Ally McErlaine from Texas and then George Michael's backline tech bought three. Marshall recalls an evening in 2006 when he was summoned to Hampden Park to demo darkblue during the Eagles soundcheck. Steuart Smith and Joe Walsh tried out the preamp in the empty, cavernous stadium, and bought one on the spot.
Various enterprises followed but the natural successor to darkblue, was a smaller preamp that would take darkblue's front end and apply it in the acoustic world. He manufactured his own Acoustic Preamp from his workshop in Fife from 2012 onwards but sought a company that could take his idea to a global audience. In 2015, he approached Orange.
Dennis surrounded by his collection, with his beloved Burns Hank Marvin
The Acoustic Pre had a soft launch at NAMM 2017 followed by a formal unveiling at this year's show on the main Orange stand. "This time we're going in with the big boys," says Marshall. "It's what I've been after for a long time – to get the circuit I created out there."
Now in his 70th year, Marshall has indeed delivered his tube circuitry to the mass market. 50 years in the music business has furnished him with some great experiences, but now there is a sense of completion.
"I built my first amp in the early 60s and that has been my life since then," he says. "I love nothing more than rolling up my sleeves and getting inside an old amp. It gives me such a buzz to put one of these things together and it works."The post Collection: Dennis Marshall – Marshall Lore appeared first on The Guitar Magazine.
Source: www.guitar-bass.net