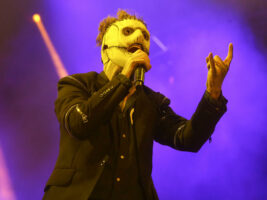 Corey Taylor says this is Slipknot's most overrated song
Slipknot's Corey Taylor has selected what he feels is the most overrated song from the band's catalogue.
Although he says the track is a "pain in my fucking ass", he won't be removing it from the set list any time soon, as he knows the fans love it so much.
READ MORE: Corey Taylor says some people in Iowa are "ashamed" of Slipknot
The song in question just so happens to be Wait And Bleed from their 1999 self-titled album. "I'm very much on the record saying that Wait and Bleed is a pain in my fucking ass,"  Taylor tells Revolver. "I've been singing it for 26 years and it hasn't gotten easier, folks! [Laughs]."
He goes on to add, "But I still sing it with Slipknot and with my solo project, which tells you how much of a psycho I am, because I know people love that song. So, you gotta do it – and listen, it's a good problem to have."
The most underrated song, he believes, is Danger – Keep Away, the final track on the band's third studio album, Vol. 3: (The Subliminal Verses), which landed in 2004.
An unedited 'full' version of the song  which runs for 7 minutes 55 seconds was later released on a special edition of the record which was landed in April of 2005.
"I love both versions, the one that's on the album [Vol. 3: (The Subliminal Verses)] and the uncut version that eventually came out," he says in the interview. "There's some beautiful parts to that song."
Another artist who doesn't plan on removing their most popular hit from live shows is Josh Homme of Queens Of The Stone Age. Speaking of bands who don't want to play their popular hits during a podcast, Homme said: "I  always think it's a little cunty to do that. Acting like a song that a lot of people like is a burden is just a strange reaction to the gift that your fans have given you. Seems like an odd reaction."
View Corey Taylor's full list of solo tour dates on his official website.
The post Corey Taylor says this is Slipknot's most overrated song appeared first on Guitar.com | All Things Guitar.
Source: www.guitar-bass.net