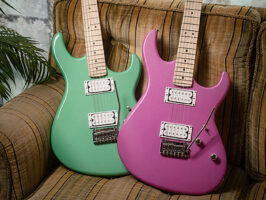 Cort G250 Spectrum review: Cort in the 80s
Cort's G series has blossomed into quite the comprehensive set of tools for guitarists of any musical persuasion. The introduction of the G250 Spectrum is for players seeking a "simple, slick-looking electric guitar with retro styling and colours that pop, while applying essential advanced components to make the guitar both greatly playable and enjoyable". This description, coupled with its appearance, is a thinly veiled nod to the glamour and back-combed hairstyles of the 80s. This era has had its fair share of deference paid in the last 18 months with many models released by Charvel and Jackson in particular paying homage. Thankfully, while the colourful guitar stylings of yesteryear have been reintegrated into modern society, the hairstyles haven't. Yet…
READ MORE: The Big Review: Jackson American Series Soloist SL3 – does this reborn icon reclaim its crown as the king of shred guitars?
With its double cream uncovered humbucker and metallic purple finish – which is actually more pink than purple – the G250 definitely conjures up an 80s hot-rodded s-type vibe. However, closer inspection reveals a few modern adornments that bring it up to date, such as the chamfered plate-less neck heel in place of a large block heel, and the appointment of locking tuners.
A great many shred rock guitars in the late 80s were constructed using a basswood body and a barely finished maple fretboard, such as the famed Ibanez RG550 and 570, so perhaps this was the inspiration for the G250. Yes, the 'board will likely dirty after time, but from a shredder's perspective this finish is infinitely preferable to a thick lacquered maple board for swift position shifts. The neck carve has eschewed 80s influence however, in that it's a very modern slim but comfortably shouldered 'C'-shape, rather than some wafer-thin necks from that era.
Cort G250 Spectrum. Image: Cort
Plugged into a semi-cranked Diezel VH4, the retro-looking cream-ringed Alnico V humbuckers provide a medium-hot classic rock output but with little in the way of high-end frequencies, especially the bridge humbucker. So much so that we find ourselves reaching for the tone pot to ensure we've not mistakenly rolled it off. While a decent classic rock tone can be achieved by fine-tuning the amp's tone stock, our lead work has a noticeable lack of sustain, which is difficult to compensate for simply by cranking up the amp's gain. The basswood body isn't a great marriage with the Cort brand pickups we suspect.
The build quality is exceptional, as we've come to expect from all the Cort ranges. However, unlike all of the Corts we've reviewed in the last 24 months, branded pickups are not included and to our ears the Cort's tone does not quite live up to its flamboyant appearance. We think that many will feel the need to upgrade them due to their curtailed high frequencies. Upgrading the pickups in a budget guitar has always been relatively common at this price point but currently, it's a very congested guitar market with plenty of guitars that won't obviously require a stock pickup change. However, any upgrade is dependent upon the quality of the guitar itself, and as always with Cort the playability and construction are of such high quality that such an investment will ultimately prove worth it. Whether that's also true of the truckloads of hairspray you'll need to properly model this guitar is another matter…
Key Features
PRICE £329, no case included
DESCRIPTION Six-string double-cut electric guitar, made in Indonesia
BUILD Bassword body, bolt-on hard maple neck with 15.75″ radius, hard maple fingerboard, 22 frets
HARDWARE Cort staggered locking tuners, Cort two-point tremolo with bent steel saddles
ELECTRONICS Cort Alnico V bridge and neck humbuckers, three-way toggle pickup selector, volume and tone
SCALE LENGTH 25.5″ (648mm)
NECK WIDTH 42.68mm at nut, 51.90mm at 12th fret
NECK DEPTH 22.14mm at 1st fret, 22.75mm at 12th fret
STRING SPACING 52.56mm at bridge, 36.37mm at nut
WEIGHT 3.6kg/7.94lb
LEFT-HANDERS No
FINISHES Metallic Purple (as reviewed), Metallic Green
Like this? Try these
Harley Benton S-620 TB Rock Series £149
Ibanez AZES40 £279
Jackson JS32Q Dinky £349
The post Cort G250 Spectrum review: Cort in the 80s appeared first on Guitar.com | All Things Guitar.
Source: www.guitar-bass.net