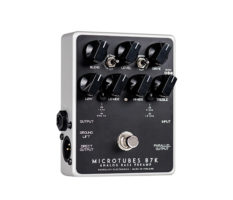 Darkglass upgrades Microtubes bass pedals
Finnish bass FX expert Darkglass has announced upgraded versions of two of its original pedals, now to be known as the Microtubes B3K V2 and B7K V2.
Navigating the tricky ground between improving a much loved product and risking damaging a proven winner, Darkglass stresses that both newcomers retain their existing sound but now feature additional tone sculpting features. A Grunt Switch adds additional low frequency content to saturate pre-clipping and the B7K V2 adds XLR DI, four band EQ and direct out.
Darkglass says the duo offer 'Tone crushing bass overdrive and super transparent modern sounds' in '…beautiful and rugged laser etched enclosures that will last a lifetime on the road.'
Available now, the Microtubes B3K V2 will have an RRP of £225, while the B7K V2 will sell for RRP £319.
Info: www.audiodistributiongroup.com
The post Darkglass upgrades Microtubes bass pedals appeared first on Music Instrument News.
Source: musicinstrumentnews.co.uk