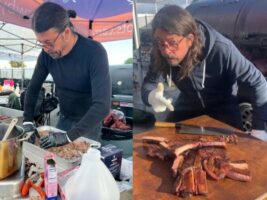 Dave Grohl spotted at homeless shelter barbequing meat for 16 hours
Even off stage, Dave Grohl of Foo Fighters is quite the rockstar. The musician was spotted at a Los Angeles shelter making barbecue for the homeless during California's winter storm last week.
READ MORE: Gibson is now selling true vintage guitars, including a '59 Burst
A spokesperson at the nonprofit confirmed to People that the former Nirvana drummer and his friends cooked over 500 meals for three shelters in LA.
"He arrived around 3 in the afternoon, and then he was in our kitchen," Grace Ancheta, director of development at Hope the Mission, told Today. "He was prepping the meat, he was cutting it up and he was there until he put it in the smoker."
"The meat didn't go into the smoker until midnight that night because he's like, 'Oh, it has to season and it has to do this'… He's definitely a craftsman when it comes to that, and then he spent the night."
Ancheta also shared that Grohl had personally served the guests afterwards and was totally gracious, taking pictures with those who recognised him.
The amazing Dave Grohl of the Foo Fighters volunteered with The Hope Mission in LA and cooked BBQ for 16 hours serving just about 500 meals to the homeless as well as paid all expenses to make it possible. I love stories like this. pic.twitter.com/oqMbiXMI2G
— Ricky Davila (@TheRickyDavila) February 28, 2023
So, without telling anyone, Dave Grohl brought his giant smoker and cooked/fed barbecue and sides for 500 folks at Hope Mission in L.A. during the storms. Paid for it all. Worked 16 hours. So, when the aliens get here and ask "who's in charge?", I think we take them to Dave… https://t.co/CFIH4GOsfb pic.twitter.com/6BrUqjsgA6
— Liz Allman Seccuro (@LizSeccuro) February 28, 2023
 
In between his grilling adventures, Grohl also recorded a video as the nonprofit's Founder and CEO Ken Craft and President and CFO Rowan Vansleve were running 350 miles from Las Vegas to Los Angeles to raise money for Hope the Mission's "All in for Housing" campaign.
View this post on Instagram
A post shared by Rowan Vansleve (@rvansleve)
Grohl had previously written about his love for barbecuing, a passion he apparently discovered after breaking his leg — literally — on tour in 2015.
"When I got off tour, I had nothing to do but mess around with a Big Green Egg that our bassist Nate got me," he told Bon Appétit.
"The process of making music is a lot like cooking for a crowd: You create a recipe as you would a song. You prepare a meal as you would record in a studio. And you serve it as you would perform live. When people come back for seconds, well, that's your encore."
The post Dave Grohl spotted at homeless shelter barbequing meat for 16 hours appeared first on Guitar.com | All Things Guitar.
Source: www.guitar-bass.net