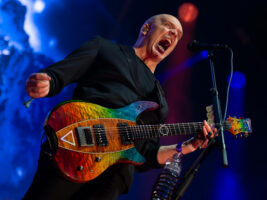 Devin Townsend on the bias against amp modelling: "I always come back to digital"
Prog legend Devin Townsend has spoken about the negative attitude towards the Axe-Fx preamp, noting that he always goes "back to digital" despite producers insisting on regular amps.
READ MORE: Rick Beato rants about U2's upcoming residency: "At what point is enough enough?"
In a new interview with Guitar World, Townsend described how some gearheads respond to the idea of working with an Axe-Fx. "It's funny, when you ask people about their favourite amp, the acceptable responses are always the cork-sniffin' ones like the Dumble or some Super Overdrive that's been hidden away since 1956," he told the outlet, explaining, "And you're allowed to say that, because that's sexy. But if you go around telling people it's an Axe-Fx, people go 'That's sacrilege!'"
Townsend continued: "My whole workflow includes tailoring sounds to suit the music I write. When I'm done, the sounds I've created are perfect for that song. When producers ask me to re-do it through some hissy old amplifier, I'll go down that rabbit hole but I always come back to digital because it's clean and I can control it."
"What people find problematic with the Axe-Fx is that it gives you all the options to make something fantastic or monumentally shit. It's up to the user," he concluded.
Townsend recently explained the reason why his signature Stormbender guitar includes many of the same features as a Les Paul but does not boast a similar profile. Explaining that Les Pauls "look shit" on him, Townsend added, "On some people, they look fantastic… When you see Joe Perry or Slash holding a Les Paul you think, 'Damn, that's a match made in heaven!' [But] I already look like a dork, so if you add a guitar that's too small for my stature, it looks awful!"
The post Devin Townsend on the bias against amp modelling: "I always come back to digital" appeared first on Guitar.com | All Things Guitar.
Source: www.guitar-bass.net