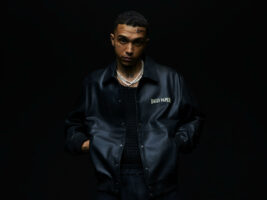 Deyaz on bucking academia, gear minimalism and being part of Fender Next
It's often said that musicians are becoming more chameleonic – learning more instruments, and immersing themselves in more genres. London-born Deyaz is a perfect example of that: a multi-instrumentalist, his musical journey up till this point has involved everything from drumming in punk bands, engineering grime artists to getting a scholarship into London's Guildhall conservatoire. He would eventually leave the world of musical academia behind, however, to focus on his own music: a heady, affecting mix of his many influences.
READ MORE: Dream Wife on Social Lubrication and why "Rock 'n' Roll is an extreme sport"
He's also recently been announced as part of the 2023 Fender Next class, a program that highlights the upcoming wave of young, influential guitarists. We got to know him a little better, as we've a feeling we're going to be hearing a lot from him in the years to come…
What song of yours should people listen to first to get into your music, and why?
My first song Helpless! I don't think it's my favourite/best song, but that's where the journey began. To hear the progression of my music it's a good place to start.
Who were the artists that first got you into playing?
I think I shared the same guitar heroes as the majority when I began playing. Jimi Hendrix, Eric Clapton, BB King, Tom Morello and the list goes on.
Your approach isn't just tied to the guitar. Was that drive to learn other instruments and production organic, or was it out of necessity?
Shortly after learning to play the guitar, I started playing piano. It immediately gave me a clearer understanding of guitar. From there I was keen on exploring other instruments to see how they interlinked with each other. For me it felt like a necessity to learn all these different tools as I knew it would only increase my vocabulary in the language of music.
After learning the basics on a cheap nylon-string guitar, what drew you to the guitars you play today?
I was so used to making do with whatever instrument I had access to that I'm not overly fussy when I go to play today. I definitely look out for guitars that feel comfortable for me to play or if there's any tonal qualities I'm looking for, I would base my decision off that.
Specifically, what drew you to the Telecaster?
I've been using a Fender Player Tele (Mexican) for a couple years now and prior to that I had never really tried one. I fell in love with its versatility, similar to a Stratocaster. I'm working on the bright,twangy cleans you can achieve on a tele, It's amazing. You can really nail those folk/country tones all the way to blues/rock sounds.
What's your approach to creating a guitar sound? Are there lots of pedals and effects involved?
I'm very minimalistic with my tones I would say, I like to add a lot of effects post recording, but live I run through a Line 6 Helix and that's run DI straight to the PA. It's all subjective to the track I'm playing but I would say generally I have a clean, ambient tone, then a crunch sound and of course a heavy gain with rev/delay for solos.
You've spoken before about the gatekeeping you experienced from the world of classical and jazz academia. Do those experiences still inform how you think about your music? Is it in deliberate 'opposition' to that world?
I think studying briefly at the junior conservatoire definitely served its purpose. I was able to tie a lot of loose ends to what I had taught myself. Everyone's journey is completely different and shouldn't be judged, but for myself. I wanted to build a musical world where there was no confinement, and where the trials and errors you make along the way are embraced as I believe a lot of the best ideas stem from the things we don't intend as musicians.
When writing, where do songs start most often for you? In a DAW, with a guitar, a bass, or at a piano?
It fluctuates between both. Recently I have been writing ideas on Logic Pro X more than with a standalone instrument. With the EP I'm writing, Logic Pro X has been the better suited workflow for me but could differ with future projects.
Can you talk about what inspired the writing of I'll Scream (All The Words)?
I'll Scream began as just a verse that I posted on TikTok. It was centred around not feeling heard and gaining the acknowledgement you deserve to be listened to. It's hard to describe in depth as a lot of my songs begin with a feeling, I then start to unconsciously write from there. I lean more towards what sounds/feels right rather than what I think is right. We tend to overthink as creatives as we're bursting with ideas but it's crucial to allow your intuition and soul to take the wheel.
What has being part of the Fender Next program meant for you?
It's been such a surreal experience! Fender has been a big part of my guitar journey and to be recognised by them feels really reassuring. Very, very grateful for the opportunity.
What can we expect to see from you in 2023?
Honest catalogues of music that I hope can help anyone facing similar experiences in their life. Also a lot more shows!, I'm excited to meet more of my fans and play the new songs to them finally. ! This EP has taken a lot of sleepless nights to finalise but I really have a good feeling about it… definitely my proudest work to date.
Check out Deyaz's latest single Bones, out today, on Spotify.
The post Deyaz on bucking academia, gear minimalism and being part of Fender Next appeared first on Guitar.com | All Things Guitar.
Source: www.guitar-bass.net