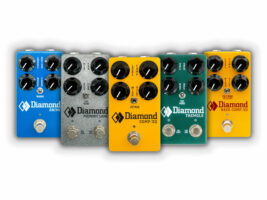 Diamond Pedals is officially back – check out the line up of newly revived pedals here
Diamond Pedals is officially back, with a line up of newly revived pedals which feature updated versions of the brand's original circuit designs.
READ MORE: SolidGoldFX launches the BETA-V, a bass preamp and overdrive effects pedal
Diamond Pedals was sadly forced to close down its operations in 2020 due to the pressures of the COVID-19 pandemic, and was thankfully saved and purchased by SolidGoldFX which was officially announced in December last year.
In a press release, it states that "After two long years of endless research, development and tinkering with Diamond's original and long admired pedal circuits, Greg [Djerrahian] and his team have launched five new devices, all building on the original designs of Diamond's most iconic flagship pedals."
It continues, "Reborn, Diamond Pedals will continue the development of sonically excellent and inspiringly innovative effects, with all design and manufacturing now happening in their fully equipped facility located in Montreal, Canada."
The first of the re-released Diamond models are:
Memory Lane – A reimagined digital Bucket Brigade Delay (dBBD) which has a smaller footprint, over double the delay time, an extended frequency response, and higher SNR. ERP £255
Comp/EQ – A classic compressor with increased range and functionality. The new EQ section allows you to sculpt your tone in the same box that squashes it, and the new Attack switch allows users to go from the "ultra-snappy" Diamond comp style, all the way to softer transparent compression. ERP £249.
Bass Comp/EQ – This pretty much does the same as the above, but a new tilt switch allows you to select the fulcrum frequency of the Tilt EQ for sculpting mids. ERP £249.
Drive –  This blue stompbox revives the original J-Drive, described as "soaked to the bone in legendary Diamond DNA", it distils the most "desirable and functional" elements from the J-Drive, Blaze, and Fireburst pedals. It's built around a Premium Sound Burr-Brown Op-amp with a dual band, and post-gain active EQ. ERP £215.
Tremolo – This green machine offers Tap Tempo with subdivisions, 11 position Rhythm control, Insta-Chop, momentary or latching speed Doubler, and more. ERP £249.
To find out more and shop the range now, visit DiamondPedals.com.
The post Diamond Pedals is officially back – check out the line up of newly revived pedals here appeared first on Guitar.com | All Things Guitar.
Source: www.guitar-bass.net