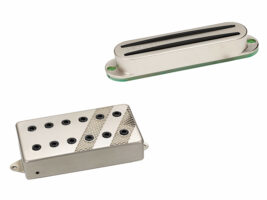 DiMarzio teams up with Periphery's Jake Bowen for a set of signature Mirage pickups 
DiMarzio has partnered with Jake Bowen of Periphery to launch a set of standalone Mirage pickups.
READ MORE: "We like to lovingly take the piss out of our fans!" Periphery on why Djent is, actually, a genre
The guitarist, from the band that declares Djent Is Not A Genre (you know the one), has worked with the pickup replacement manufacturer in a new mission to push past the days of his previously favoured HH configuration. These new pickups used to only be available within Bowen's Signature Ibanez JBM9999 model, and are now being sold separately.
The neck Mirage is based on DiMarzio's The Chopper, which has been tweaked so that it can perform the same way in the angled position on the JBM9999. DiMarzio also shares that Bowen wanted a "super saturated" single coil sound that was a mix between The Cruiser and The Chopper models.
Therefore, the Mirage Neck features a bell-like top end for smoothness and an opened-up bass. There's also slightly more output to keep up with his Mirage Bridge pickup, and it has a satin nickel appearance to compliment the overall aesthetic of his signature axe.
And speaking of the Mirage Bridge, as Bowen recently altered his picking technique, he wanted to capture the same palette of tone and dynamics as he's always had with the brand's Titans, but a whole lot beefier.
Bowen was said to want "more of everything" from this new pickup design. The Mirage Bridge is said to provide more output and more highs, mids, and lows to improve clarity in dropped tunings and through complex chords.
Both Mirage pickups are available now, with the Mirage Neck priced at $110.99, and the Mirage Bridge at $149.99. Find out more at DiMarzio.com.
The post DiMarzio teams up with Periphery's Jake Bowen for a set of signature Mirage pickups  appeared first on Guitar.com | All Things Guitar.
Source: www.guitar-bass.net