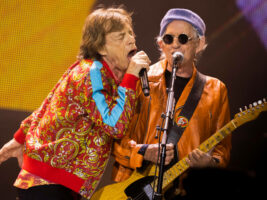 Does this cryptic newspaper ad herald a new album by the Rolling Stones?
Is a new Rolling Stones album on the way? That's what some fans are thinking, after a suspicious ad appeared last week in British local newspaper the Hackney Gazette.
In the August 17 edition of the paper, eagle-eyed Stones fans spotted an advertisement for Hackney Diamonds, a company which markets itself as "specialists in glass repair".
READ MORE: David Byrne "regrets" how Talking Heads split was handled
But upon closer inspection, several clues point to the potential involvement of one of rock's biggest bands.
Cream-coloured text on a bright red background reads: "Our friendly team promises you satisfaction. When you say gimme shelter we'll fix your shattered windows." This, of course, references a number of classic Stones hits: (I Can't Get No) Satisfaction, Gimme Shelter and Shattered.
Even more astute fans noticed that the 'company' was established in 1962 – the same year The Rolling Stones formed – and if you call the number listed on the ad, a man teases the opening of a new store in September.
Anyone see this? An ad ran in Hackney Gazette for a company called Hackney Diamonds teasing Rolling Stones song titles. Their est. date is 1962, same year Stones formed. Website seems to be run by Universal Music, the Stones' label. A clue their long-awaited new LP is on its way? pic.twitter.com/DFSnb2WE48
— Simon Harper (@Simon__Harper) August 21, 2023
And the smoking gun, if you will, lies in a new website, hackneydiamonds.com. Here, you can register your interest to hear updates about the new "store", only if you pay closer attention to the information at the bottom of the signup form, you'll see that info is being collected by none other than Universal Music Group, which handles the Stones' music catalogue.
So are the wheels finally in motion for the Rolling Stones' highly anticipated next album? Based on the mounting evidence, we'd bet on it. Off the record, of course.
Earlier this year, it was revealed that Bill Wyman, who hasn't appeared on a Stones album since 1989's Steel Wheels, would be contributing bass to the new record.
The album will also reportedly feature late drummer Charlie Watts – who passed away in 2021 – as well as guest spots from surviving Beatles Paul McCartney and Ringo Starr.
The Rolling Stones' latest album was Blue & Lonesome, which arrived seven years ago in 2016.
To stay in the loop on movements in the Rolling Stones camp, head to the band's official website.
The post Does this cryptic newspaper ad herald a new album by the Rolling Stones? appeared first on Guitar.com | All Things Guitar.
Source: www.guitar-bass.net