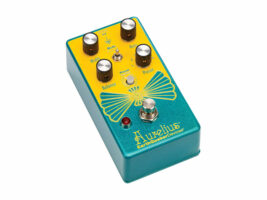 EarthQuaker Devices introduces the 70s-inspired Aurelius Tri-Voice Chorus pedal
EarthQuaker Devices has launched the Aurelius – a Tri-Voice Chorus pedal with three effect modes, and six editable presets.
READ MORE: Sunn O))) x EarthQuaker Devices Life Pedal V3 review: the ultimate drone-doom pedal?
The device is inspired by the Boss CE-1 Chorus Ensemble which was originally released in the '70s (and also takes elements from the 1940s Leslie rotating baffle speaker system), but features a much more compact and modern design.
The device offers tones that shift from warbling, nervy vibrato to flanging rock 'n' roll sounds. Users can choose between three modes, Vibrato, Chorus and Rotary, and can manipulate their Width,  Rate, and Balance to achieve their desired sound.
There are six programmable presets and an expression control. You can watch the videos below for a closer look at the pedal in action:
There are also two modes of operation – a Live Mode (Green LED), where the pedal will operate exactly where the controls are set, any changes will have no effect on the presets unless saved, and a Preset Mode (red LED), which recalls stored settings for each control, and actual control settings will be ignored.
Last month (March), EarthQuaker Devices reissued the notoriously hard-to-find White Light overdrive pedal, but for a limited time only.
The limited run of 2,000 units contained the same White Light circuitry as the original, but in the now standard-size enclosure, with top mounted jacks and Flexi-Switch Technology (also found in the Aurelius), which allows for simultaneous use of momentary and latching style switching.
The Aurelius is currently retailing for £225 GBP. Find out more at EarthQuakerDevices.com.
The post EarthQuaker Devices introduces the 70s-inspired Aurelius Tri-Voice Chorus pedal appeared first on Guitar.com | All Things Guitar.
Source: www.guitar-bass.net