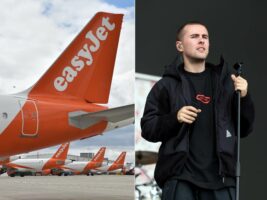 EasyJet is suing Leicester indie band Easy Life over their name
English pop band Easy Life have revealed that they're being sued by airline giant EasyJet over the use of their name.
READ MORE: Noel Gallagher: "We always had unshakable self-belief in Oasis… I'd hear Blur or Pulp or Suede on the radio and think – f**k these idiots"
In a statement posted across their socials, the five-piece says that EasyJet is "forcing" them to change their name, with the alternative being a "costly legal battle".
"Okay… Never imagined having to do this, but we've no choice but to address the situation we find ourselves in," the statement begins. "As some of you have already discovered, we are being sued, easyJet are suing us for being called Easy Life."
"They're forcing us to change our name or take up a legal battle which we could never afford. We've worked hard to establish our brand, and I'm certain in no way have we affected their business."
They continue: "Although we find this whole situation hilarious, we are virtually powerless against such a massive corporation. I don't really know what else to say, will keep you lot updated. For those of you who bought gig tickets and ended up on a budget flight to Tenerife, I apologise, for the rest of you, thank you so much for your support".
View this post on Instagram
A post shared by easy life (@easylife)
This is not the first time EasyGroup — which EasyJet operates under — have tried to sue someone over the use of the name EasyLife.
A couple of years ago, a case was launched in an attempt to prevent a retailing business called Easylife Ltd and its director from, among other things, using various brands incorporating the word 'easy'. The infringement claim was ultimately dismissed by the courts; EasyGroup also suffered the revocation of various of its UK trademarks on the grounds of non-use.
The post EasyJet is suing Leicester indie band Easy Life over their name appeared first on Guitar.com | All Things Guitar.
Source: www.guitar-bass.net