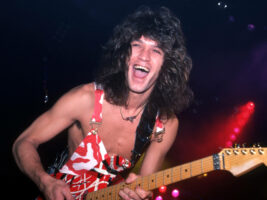 Eddie Van Halen's 9-minute solo at Monsters of Rock 1984 available to watch online for the first time ever
One of the most elusive Van Halen clips has found its way online. If you want to watch the band's 1984 set at Donington's Monsters of Rock festival, – including Eddie Van Halen's iconic nine-minute solo, you can now do so.
READ MORE: "I feel like I had to up it a little bit more, 'cause now people would expect that from me": Wolfgang Van Halen says playing his dad's solos at Taylor Hawkins tribute shows changed his own music
It was the first of five performances the band gave on the Monsters of Rock tour that year, and it took place in front of 65,000 festival goers. Their first UK show since 1980, it was also one of their last with frontman David Lee Roth.
It's been thought for years that the complete footage was in existence somewhere, with some segments being used on TV, while the band were also thought to have shot their own footage too.
And now, an hour-long clip of the set has been shared to YouTube, and it's amassed nearly 60,000 views in just 18 hours. Be sure to go and check it out quick, though; it's been uploaded by a fan account with relatively few subscribers, so there's a good chance it'll be taken down in the next few days.
Eddie Van Halen's guitar solo begins from around 45 minutes in. At first, there's some skilled muted picking, before Michael Anthony and Alex Van Halen add some rhythm.
From there, approaching the halfway point, Van Halen takes a neoclassical turn with some fingerstyle, before moving onto arpeggios that verge on electronica territory. He then adds something reminiscent of his classic solo Eruption to round things off.
The footage lacks audio, but it seems to have been synced with the bootleg fan audio of the set that's already out there. And, as well as the solo, you can hear some of the band's most well-known songs, including Hot For Teacher, Jump, and their debut single [and cover of The Kinks' classic] You Really Got Me.
You can watch the entirety of the set below:
The post Eddie Van Halen's 9-minute solo at Monsters of Rock 1984 available to watch online for the first time ever appeared first on Guitar.com | All Things Guitar.
Source: www.guitar-bass.net