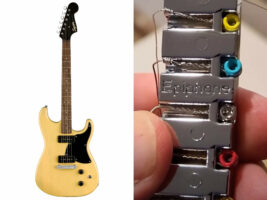 Epiphone-branded bridge in Squier Strat-O-Sonic was "unintentional", says Fender
You may remember last week, when we wrote a story about the new Squier Paranormal Series Strat-O-Sonic which weirdly came fitted with an Epiphone-branded bridge. Well, turns out that was a bit of a whoopsie on Fender's part.
READ MORE: Here are the best electric guitar deals in Guitar Center's 4th of July sale
The discovery came from YouTuber Landon Bailey, who shared a video of his new Strat-O-Sonic, which had the Epiphone name engraved on the underside of its wrapover-style bridge.
If you need to jog your memory, the video can be found here:
In a new statement from Fender provided to Guitar World, the brand has confirmed that the Epiphone bridge has been included on a number of models unintentionally.
The full statement reads, "It is common in the industry for contract manufacturers to produce products for multiple brands and for those brands to coincidentally share certain parts produced by third-party parts vendors.
"While this particular bridge is not exclusive to Epiphone, they have used it and it is evident that for their products they prefer their logo to be present. This is a rare example of that specific part showing up in our production with their logo unintentionally."
The statement concludes, "Future production runs of the Strat-O-Sonic will have no logo on the bridge to avoid further confusion." Fender does not provide a number of how many of these models already out there include this specific Epiphone branded bridge.
Despite the mishap, the model does share some other Gibson-esque features. It has Soapbar P-90-style pickups and a 24.75" scale length rather than the traditional Strat 25.5". Many have noted its similarities to a Gibson Les Paul Special.
The Strat-O-Sonic is priced at £409.99, and you can find out more over at Fender.
The post Epiphone-branded bridge in Squier Strat-O-Sonic was "unintentional", says Fender appeared first on Guitar.com | All Things Guitar.
Source: www.guitar-bass.net