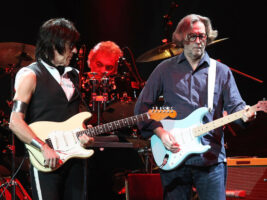 Eric Clapton releases Jeff Beck collab song, Moon River
Eric Clapton has released a cover of Moon River, featuring the late guitar legend Jeff Beck.
READ MORE: Vince Neil gives advice to new bands: "Listen to everybody… some people that don't really write come up with great ideas sometimes"
The track — originally performed by Audrey Hepburn in the iconic 1961 film Breakfast at Tiffany's — was recorded not long before Beck's passing earlier this year.
"In January 2022, Eric and I recorded a version which was more of a ballad – and naturally the guitar and vocals were brilliant," said longtime collaborator Simon Climie (via Guitar World).
"When we were happy with the track, Eric asked me to send it over to Jeff. Jeff loved it. And soon after that in the spring of 2022, Jeff added his unmistakable guitar part. It knocked us off our feet."
Available now on all streaming platforms, Moon River will also be released on vinyl (14 July) with a double A-side titled How Could We Know, featuring Judith Hill, Simon Climie, and Daniel Santiago.
Listen to the track below.
In other news, Clapton has announced two Jeff Beck tribute concerts taking place at London's Royal Albert Hall later this month. Among the star-studded lineup are Clapton himself, Gary Clark Jr., ZZ Top's Billy Gibbons, and Johnny Depp, whom Beck worked with on the collaborative studio album 18 released last July.
The post Eric Clapton releases Jeff Beck collab song, Moon River appeared first on Guitar.com | All Things Guitar.
Source: www.guitar-bass.net