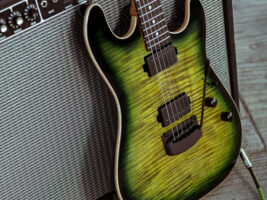 Ernie Ball announces official partnership with guitar learning app Rocksmith+
Ernie Ball has announced its official partnership with Ubisoft-backed guitar-learning app Rocksmith+.
READ MORE: Aerosmith celebrates five decades with career-spanning 'Greatest Hits' compilation box
The move brings Music Man instruments and other Ernie Ball products into the award-winning music game.
For the uninitiated, Rocksmith+ is a subscription-based rhythm game that doubles as a learning tool for guitarists and bassists. With a library of more than 6,000 tracks across a variety of genres, Rocksmith+ allows users to learn how to play guitar through master recordings of their favourite songs.
The app features a suite of practice tools such as real-time note detection and feedback, interactive lessons and practice recommendations that it generates based on players' goals, skill level, and progress. Subscribers can also view video lessons on a variety of topics ranging from proper technique, gear, instrument care, music theory, and more.
"Whether you've never played guitar, played your whole life, or want to learn how to play your favourite song, Rocksmith+ is the perfect companion for your musical journey," said Jay Cohen, vice president and executive publisher of Ubisoft.
"We are curating the most extensive song library with major artists and rising stars from genres all over the world. Rocksmith+ is a proven revolutionary learning tool that's fun and easy to use at an incredible value at $100 a year where you can spend as many hours as you'd like to play your favourite songs as often as you want, wherever and whenever you want. This is just the beginning, and we can't wait to see our community perform."
The app is now available globally on PC, iOS and Android. New users can try 7 days of Rocksmith+ for free on the Ubisoft Store.
Click here to check out our full review of the Rocksmith+ app.
The post Ernie Ball announces official partnership with guitar learning app Rocksmith+ appeared first on Guitar.com | All Things Guitar.
Source: www.guitar-bass.net