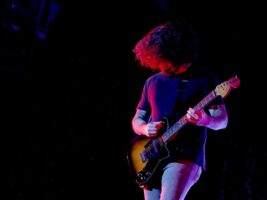 Fall Out Boy shares plan for Joe Trohman's cover during his break
Fall Out Boy have shared how they will cover for guitarist Joe Trohman as he takes an indefinite break from the band.
READ MORE: Fall Out Boy guitarist Joe Trohman "stepping away" for mental health reasons ahead of band's first album in five years
While no tour dates have been mentioned for their upcoming album, So Much (For) Stardust, which is set for release on 24 March, a source close to the pop-punk band have told Billboard that there is a plan in place to deal with the guitarist's absence.
The current plan is for Trohman's long-time guitar tech to fill in and support the band during any promotional appearances and future tour dates. Billboard even mentioned that the tech has already appeared with the band, as he has been playing some of the guitarist's parts offstage during recent promotional performances.
This update comes a few days after Trohman made an announcement on an Instagram post, stating that his "mental health has rapidly deteriorated over the past several years," and so to "avoid fading away and never returning," he'll be "taking a break from work which regrettably includes stepping away from Fall Out Boy for a spell".
However, he did state that there are plans to return, but that he needs time to recover by putting his mental health first.
In other Fall Out Boy news, lead singer Patrick Stump has assured fans that the newest album will feel closer to Infinity On High and Folie A Deux, rather than a "big, loud, 2007 pop-punk record".
For more information about the upcoming Fall Out Boy album, and to hear about potential upcoming tour dates, you can visit FallOutBoy.com.
The post Fall Out Boy shares plan for Joe Trohman's cover during his break appeared first on Guitar.com | All Things Guitar.
Source: www.guitar-bass.net