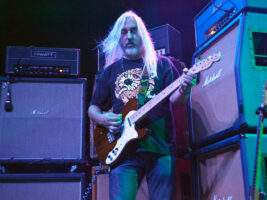 Fender J Mascis Telecaster may on the way to shelves, according to alleged online leak
A signature Fender Telecaster model for Dinosaur Jr guitarist J Mascis may be on the way, according to an image of a catalogue that was leaked online.
READ MORE: Dinosaur Jr – Sweep It Into Space review: J Mascis and Kurt Vile is a partnership we want to see more of
According to Gearnews, the image of the purported guitar appeared in a Dinosaur Jr. Facebook group. The image – which appears to be from a product catalogue – pictured a Road Worn Fender J Mascis Telecaster in Blue Sparkle.
Specs detailed in the image claim the guitar will come loaded with "Custom J Mascis Telecaster Pickups" as well as a C-shaped Road Worn maple neck, and a mirror pickguard. It's said to have a price tag of $2,499 and a release date of August 2021.
Image: Gearnews
Mascis, these days, is most associated with Jazzmasters, but has played Telecasters in the studio and onstage back in the '90s. The guitar in the leaked image may be a recreation of the guitarist's '58 Telecaster, which he showed off in a conversation with Fender last year.
Neither Fender nor Mascis has responded to the leak or made any official announcement about the guitar. But with Summer NAMM happening later this month, it's possible the guitar could be unveiled then. Guitar.com has reached out to representatives for both Fender and Mascis for comment.
Dinosaur Jr's latest album, Sweep It Into Space, was co-produced with Kurt Vile and dropped back in April. In our 8/10 review of the record, we called it: "Another consistently strong set from a band whose second act threatens to eclipse their initial pomp."
The post Fender J Mascis Telecaster may on the way to shelves, according to alleged online leak appeared first on Guitar.com | All Things Guitar.
Source: www.guitar-bass.net