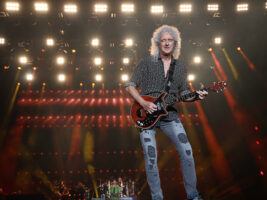 Five cheap 'off-brand' guitars that rocked the world
You don't need an expensive instrument to create music that changes the world. Guitars are tools of conveyance, without a message to convey, the guitar is useless – it is the artist, not the tool, that makes the art.
READ MORE: The best versatile electric guitars to buy this year
With that in mind, here are five guitar players who shunned the traditional classics and made wonderful music with some left-field offerings.
Billie Joe Armstrong's Fernandes S-type
Billie Joe Armstrong. Image: Kevin Mazur / AMA2019 / Getty Images for dcp
In the late 70s, Fernandes was churning out some quality guitars. The praises of vintage Fernandes Strat copies have been sung by Kirk Hammett as well – he famously used one on the Ride The Lightning Tour.
Arguably, the most iconic Fernandes Strat copy belongs to Billie Joe Armstrong. He got the guitar as a gift for his 11th birthday. His mother bought the guitar from a local guitar instructor, George Cole, who was Armstrong's guitar instructor in his formative years. Allegedly, George got the guitar from David Margen, who was a bass player Santana's band from 1977 until 1982.
Armstrong nicknamed the guitar 'Blue'. It has undergone several mods through the years, starting with a Bill Lawrence pickup in the bridge – this was later swapped out for a Seymour Duncan JB. More intriguing than the pickups themselves is the manner by which they were mounted. The pickup was mounted at an angle, much like Eddie Van Halen's Frankenstrat.
Over the years, the headstock logo has been removed, making it very difficult to give the guitar an exact age. Fender's Custom Shop eventually made several replicas of "Blue" for Billie Joe to use on stage. The original is still in the rotation and is often used in the studio. Armstrong has developed a taste for Gibson Les Paul Juniors in recent years, but together, Billie Joe and Blue brought punk rock into the mainstream light and exposed an entire generation to the aggressive three chord style of guitar playing that many of us fell in love with. Blue was used almost exclusively by Billie on Green Day's early iconic albums.
James Hetfield's Electra Flying Wedge 2236
James Hetfield and Cliff Burton. Image: Pete Cronin / Redferns
We've all (probably) made some unfortunate gear purchases in our lives. Early on in his music career, James Hetfield bought a guitar for $200 under the guise of it being a genuine Gibson Flying V. As it turned out, it was an Electra Flying Wedge Model 2236 with a Gibson truss rod cover on the headstock. In hindsight, he probably should have known it wasn't a Gibson – the bolt-on neck should have been a dead giveaway. But we won't fault him too much – he was young. It was the third guitar Hetfield ever owned.
READ MORE: The history of the Gibson Flying V
Electra made these Flying V copies from 1974 until they were discontinued sometime in the early-80s. The guitar underwent some minor alterations, the original pickups were swapped out for Seymour Duncan Invaders. Its original burgundy finish had been painted over with white nitrocellulose lacquer by the time it found its way to James. The guitar wears the scars of years of abuse and some custom etchings by Hetfield himself, including a middle finger on the back, a skull and crossbones on the headstock, and the iconic 'Fuck It' on the front. It was used on Kill Em All and many subsequent albums. We recently spoke with Hetfield's longtime guitar tech, Chad Zaemisch, about the guitar:
"That guitar has taken its lumps over the years (like many of us) but it is alive and kicking despite its inability to stay in tune," said Chad. "James played it on the last record [Hardwired…], and I know it will be on the next record.  It stays in the studio where it belongs."
Jack White's 1964 Airline JB Hutto
Jack White. Image: Bob King / Redferns
During Jack White's years in The White Stripes, he became well known for using cheap off-brand guitars such as his Kay Archtop and his Crestwood Astral II, but his most famous example was his Airline guitar. Between 1962 and 1967, Airline guitars made Res-O-Glas guitars, which were essentially fiberglass hollowbody guitars with a piece of maple going down the center to mount the pickups and bridge to. The company that made Airline guitars, Valco, wound their own pickups, which are still featured in Jack White's guitar. They are often mistaken for humbuckers, but they are really single coils. It had no truss rod but did feature a non-adjustable steel beam in the neck to keep it straight.
The design has (sort of) been resurrected by Eastwood Guitars who bought the rights to use the Airline name and design in the early 2000s. Although the new remakes sound great, they are nothing like the originals. The body is chambered mahogany instead of fiberglass, which kind of negates the very thing that made those guitars unique.
As The White Stripes gained popularity, the old Res-O-Glas guitars were all snatched up from the market and to find one now is rare. Originally, they were a brand of guitar you could order from a Montgomery Ward catalog, similar to a Silvertone or Kay. The original price tag was $99. The cheap fiberglass guitar found new life at the hands of Jack White and became the core of the lo-fi tones that propelled The White Stripes to stardom.
Brian May's Red Special
Brian May. Image: Jordi Vidal / Redferns
Brian May built his Red Special with his father over the course of two years, ending in 1965, and has been his constant companion ever since. The pickups are Burns Tri-Sonics. The magnet was flipped in the middle pickup to reverse the polarity. May originally wound his own but didn't like the sound. The unique bridge and vibrato was custom built out of aluminum, motorcycle valve springs, and a knife.
The inlays were hand carved from buttons; the neck is made of mahogany from an old mantle, and the fretboard is oak (a somewhat odd tonewood for a fretboard). The body, although appearing to be a solid body, is actually semi-hollow – with oak in the center and mahogany veneer on the top and bottom. It was originally intended to have F-holes, but they never ended up doing them.
May still uses the original Red Special, although many copies have been made. The first copy was done by John Birch, who also built custom guitars for Angus & Malcolm Young and Tony Iommi. This guitar may not fit this article perfectly because it wasn't a cheap, off-brand guitar, it was more of a custom-built instrument [Eddie Van Halen's Frankenstrat would be another example]. But often times, home built instruments, were built because they didn't have the money to buy a Gibson Les Paul of Fender Stratocaster. Taking an old oak table and turning it into a DIY guitar that rocked the world is quite a feat.
May used the guitar on most of Queen's iconic songs. He still uses the guitar stating, "I thought about touring without it, but it would be like a part of me was missing."
Prince's Hohner Mad Cat
Prince. Image: Evan Agostini / Getty Images
Prince used a lot of iconic and unique guitars over the years, but his favorite was a Hohner Mad Cat – a decent quality Japanese Telecaster knock-off. They are quite rare as they had to halt production after they were sued by Fender. Some estimates claim only about 500 were made.
So the Hohner Mad Cats are very collectable, especially those that say Hohner on the headstock instead of H.S. Anderson, which was what they were called before being bought out by Hohner. In case you're wondering, yes, it's the same Hohner that makes harmonicas.
Prince had stated in interviews that he bought the guitar for $30 at a gas station, but an alternative  story says that the famous guitar was purchased in LaGrange, Ilinois at Purdom's Pick Stop in 1983. According to a forum post, Prince was in town to do a show in Chicago and stopped there in a large purple limo and bought the guitar. The Hohner was one of two the store had; one cherry red and the other, which Prince purchased. The list asking price was $800. The salesman was allegedly named Bill. A local newspaper wrote a story about Prince being happy with his purchase, and according to the story, the store kept the article hanging in the front.
The incredible rarity of the Mad Cats, particularly those with the Hohner logo on the headstock, may have made them a collector's item, but Prince's use of the guitars is most likely the cause of originals fetching north of $20,000 in recent auctions. Even when they were new, they weren't exactly cheap – they cost about 80,000 YEN new in 1976, which equates to $772.98 in today's US currency.
Prince had four Mad Cat replicas made by Roger Sadowsky – two exact replicas, and two made with special plumbing going through the neck, which would allow ivory liquid to be sprayed out of the headstock of the guitar during the climax of certain solos on the Purple Rain tour. Those guitars were inevitably dubbed, "Ejacucasters".
Prince used one of the Hohner Mad Cats (or replicas) when he played the solo on While My Guitar Gently Weeps at the 2004 Rock Hall of Fame Ceremony. After the solo, Prince, threw his guitar, which was caught by his sure handed, longtime guitar tech, Takumi Suetsugu, and handed off to Oprah Winfrey, who was sitting in the front row. Oprah later gave the guitar back and it allegedly resides at Paisley Park today. It is quite likely that this Hohner was one of the replicas.
For more features, click here.
The post Five cheap 'off-brand' guitars that rocked the world appeared first on Guitar.com | All Things Guitar.
Source: www.guitar-bass.net