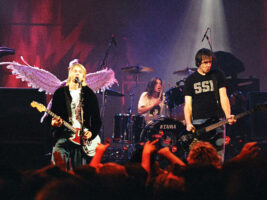 Five essential Nirvana tracks for guitar players
Everyone has those bands that sit firmly in the 'I've heard OF them, but I haven't HEARD them' territory. You might even be a little embarrassed to admit it. Well fret no more – each month Start Me Up will take you on a five-track tour of a legendary guitar artist and give you a perfect grounding to bluff the group chat, or use as a springboard to becoming a bona fide superfan.
When a person becomes a legend, it's the details that suffer. We should try to remember musicians like Kurt Cobain on a granular level, understanding the importance of their tastes, impulses and obsessions over the dispiriting bummer of seeing a Nirvana shirt hanging in a supermarket, their bruising brilliance tamped down into a fast fashion fix.
READ MORE: Nirvana's 10 greatest guitar moments, ranked
In the first edition of Start Me Up, a new series on Guitar.com, we're starting with a bang and diving into Nirvana's back catalogue to provide a roadmap for those who have been waiting for a way in. That might mean listeners who have been put off by their ubiquity, or those who simply haven't gotten around to dissecting one of modern rock's most vital and interesting discographies. We get it! There's a lot of stuff out there.
Alongside his bandmates, chiefly bassist Krist Novoselic and drummer Dave Grohl, Cobain made slashing, confrontational pop music on a selection of pawn shop guitars, smashing almost as many as he owned. A left-hander, he trusted a few simple pedals, borrowed amps and a mishmash of Univox Hi-Flyers, Japanese Strats, and Mustangs, which he wrangled with a mix of reverence and irritation, to get him where he needed to go. "Whoever invented [the Mustang] was a dork," he once told Guitar World of his problems with altering their action and getting them to stay in tune. "I guess I'm calling Leo Fender, the dead guy, a dork."
Here are five songs to get you going, lifted from across Nirvana's short, sharp shock of a catalogue, which was released in a hurry during six thrilling years as the '80s became the '90s. You'll find many, many more worth obsessing over and, doubtless, will come to disagree with these picks. Go for it, dorks, it's part of the fun.
Start here: Lounge Act (Nevermind, 1991)
Situated at the top of Nevermind, Nirvana's iconic breakthrough album, Smells Like Teen Spirit is like a festival headliner – it's there, it's massive, but there are better things further down the bill. Compared to that era-defining juggernaut, Lounge Act is relatively unheralded, but there are few songs that better showcase Cobain's innate skill for fusing melody and buzzsaw chaos. The final throat-shredding chorus, with Grohl trying to hammer his kit a couple of feet through the floor and the guitars resembling an explosion of fuzz, is the perfect evocation of everything Nirvana could be.
Then go here: Floyd the Barber (Bleach, 1989)
If you treat Nevermind as a line in the sand, which it was, then you're left with where Nirvana came from and where they were going to head next. Taken from their Sub Pop debut Bleach, Floyd the Barber is a neat summation of the former state, bringing together the muddy disaffection of Seattle grunge with surging hooks and a guitar break that rips in an unironically classic-rock sense. Cobain loved the Stooges and Scratch Acid, but he also famously dug the Beatles. Behind the kit here (and on a couple of other Bleach songs, namely Paper Cuts and Downer) you'll find Melvins' Dale Crover instead of Chad Channing, giving the lurching bass-guitar relay of the riff concrete heft.
Stop off here: Molly's Lips (Incesticide, 1992)
Incesticide is an interesting aside in Nirvana's story, with the compilation of B-sides, live sessions and tidbits following in the wake of Nevermind rather than a proper follow up LP (there is speculation that it was originally intended for release by Sub Pop under the A+ title Cash Cow). It said plenty about the band's roots in punk and their way with a melody (see Sliver, or Aneurysm, or Been a Son, which could all go heavy rounds with anything on Nevermind) but also about Cobain's fascination with weirdo pop music. The Vaselines were a particular favourite, with the Scottish jangle-pop duo speaking to his love of straight-ahead hooks and underlying tweeness. Nirvana's version of Molly's Lips showed the tensile strength of the original composition, turning it into a sub-two minute rager defined by molasses-thick distortion.
Almost home: Scentless Apprentice (In Utero, 1993)
The story behind In Utero — that it was recorded with Steve Albini and that Geffen freaked at its lack of consumer appeal, drafting in Bob Ludwig and Scott Litt to restore some sheen — is well-trodden and completely inconsequential when actually listening to the thing. Nirvana's third LP is a monster. Recorded in a matter of weeks at Pachyderm Studio in Cannon Falls, Minnesota, it is intense from the off, with Scentless Apprentice perfecting the blend of sludgy mayhem that Cobain couldn't quite nail on Bleach. The song is crushingly heavy, feeding off a career-best performance by Grohl, and also provides the best recorded evidence of Cobain's needling, scratchy genius as a noise-rock guitarist.
Nightcap: All Apologies (MTV Unplugged in New York, 1993)
Perhaps the greatest legacy left by Nirvana's MTV Unplugged set was the spotlight it shone on out-of-the-way songwriters – along with the Vaselines, it featured superlative covers and a guest spot by members of the SST cowpunk band Meat Puppets – but this version of All Apologies is its trump card. Cobain's 1959 Martin D-18E acoustic (which became the most expensive guitar ever sold at auction in 2020) is at the front of the mix, bringing a slightly-overdriven edge that plays off the sweeping beauty of a sparse cello arrangement performed by Lori Goldston. Cobain reaches into his guts for each refrain and signs off in perfect, sentimental-after-the-fact harmony with Grohl. A masterpiece of performance and interpretation.
Where next?
The Nirvana family tree is a sprawling thing. Naturally, you have Grohl's huge discography as leader of the Foo Fighters and collaborator to the stars. Then there's Novoselic's cabinet of oddities, such as his one-off live record with members of Dead Kennedys and Soundgarden as the No WTO Combo. Touring guitarist Pat Smear later became a high-profile Foo Fighter, but before that he played in Germs, one of the most important hardcore bands of all time. Then there's Courtney Love and Hole's compact imperial phase, which offered a faultless run spanning grimy noise, searing grunge-fuelled spite and supremely glossy pop-rock.
The post Five essential Nirvana tracks for guitar players appeared first on Guitar.com | All Things Guitar.
Source: www.guitar-bass.net