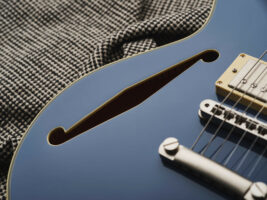 Five reasons why a semi-hollow guitar is the ultimate road instrument
Brought to you in association with D'Angelico Guitars
When civilians think of an electric guitar, they're probably imagining a solidbody instrument, and consign instruments with a bit of air in them to campfire strumming or the dim and distant past. But we know better. For over 60 years now, guitarists of every stripe have come to understand one fundamental truth – that there's nothing quite like a semi-hollow.
The best semi-hollow electric guitars to buy in 2023
Don't believe us? Let's do a roll call: from BB King and George Benson, to Keith Richards and John Lennon, Alex Lifeson to Noel Gallagher… all the way through to modern exponents like Dave Grohl, Melanie Faye, Isaiah Sharkey and countless others.
All these diverse and inspirational artists are united by one simple truth – when it's time to strap on a guitar and step out on stage, you need a hollow guitar with a solid block in the middle, and the attitude to make it sing.
Photo by Adam Gasson
That's why D'Angelico has introduced the Excel Tour Collection. Building on the company's nine-decade history making archtops in that most musical of towns, New York City, the Tour Collection offers semi-hollow players everything they could want without anything you don't. That means a choice of three body styles – the full-size double-cut DC and the single-cut SS, plus the scaled-down Mini DC – each with tune-o-matics, simplified two-knob control layouts and a duo of ​​new Supro Bolt Bucker humbuckers. They're all available in the minimalist Solid Wine, Solid Black, and Slate Blue finishes that will stand up to the rigours of the road.
The Tour Collection epitomises exactly why the semi-hollow is the ultimate road guitar, but don't just take our word for it – here's five reasons why.
 
Photo by Adam Gasson
Nothing sounds like a semi
The construction of a semi-hollow guitar offers increased resonance and a more vibrant, organic tone compared to a solidbody guitar. The hollow sections of the body, combined with the solid centre block, contribute to a unique sound that falls between the brightness of a solidbody and the warmth of an acoustic guitar. In short – nothing sounds like it.
 
They're light as a feather
If you've ever come off stage having played a mahogany-bodied single-cut for an hour, you'll understand the importance of lightweight instruments if you're doing it night after night on the road. And unless you start loading it with heavy metal bits like a Bigsby, a semi-hollow guitar barely feels like it's there – for example, the DC Mini pictured in this article weighs barely 6.5lbs!
Photo by Adam Gasson
They're incredibly versatile
Semi-hollow guitars offer a wide range of tonal possibilities. The combination of the hollow chambers and the centre block contributes to a balance between rich, resonant tones and the sustain and feedback resistance of solidbody guitars. This versatility means that where you might be swapping guitars throughout a set, many players will be able to get everything they need with just one instrument.
 
They won't feed back… unless you want them to
Plenty of guitarists have come unstuck in a live setting when using a fully hollow instrument, as they can feedback with relative ease and once it starts, it's not always easy to stop. The centre block of a semi-hollow guitar is literally there to reduce feedback – as such it strikes a perfect balance between the resonance and tone of a hollowbody instrument with some of the feedback-resisting properties of a solidbody. However, if you do want it to feed back? Well, there are few things more fun than a semi being tipped into wild cacophonies of controlled (barely) noise.
Photo by Adam Gasson
They just look cool
Forget the weedy contours of a solidbody instrument, a semi-hollow just looks so damn cool – especially if you have a larger frame and you're using a full-sized semi. Just look at the Tour Collection: those elegant body curves, the vaguely menacing look of the horns, the timeless beauty of the f-holes… forget everything else for a minute and just bask in how cool a semi-hollow is, and how cool you'd look strapping one on.
 
So there you have it, five reasons why you need a semi-hollow guitar – like one of the new D'Angelico Tour Collection instruments – in your gigbag next time you head out on tour. We'll see you on the road.
Find out more about the D'Angelico Excel Tour Collection here.
The post Five reasons why a semi-hollow guitar is the ultimate road instrument appeared first on Guitar.com | All Things Guitar.
Source: www.guitar-bass.net