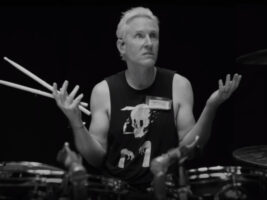 Foo Fighters announce new touring drummer Josh Freese
Foo Fighters have announced Josh Freese as the band's new touring drummer during a live streaming event on Sunday.
READ MORE: Zakk Wylde reveals brutal new Mockingbird-inspired Thoraxe guitar
The 50-year-old will be taking the place of longtime Foo Fighters drummer Taylor Hawkins, who passed away unexpectedly on 25 March, 2022. A prolific session drummer, Freese has played with Nine Inch Nails, Guns N' Roses, Vandals, Devo, A Perfect Circle, Weezer and many more in a career spanning nearly four decades.
He also participated in Foo Fighters' tribute concerts to Hawkins last fall, joining the band on drums for their Grammy-winning track All My Life.
During Sunday's event, titled "Preparing Music for Concerts", Foo Fighters teased several potential replacements in a short skit featuring cameos from Red Hot Chili Peppers' Chad Smith, Mötley Crüe's Tommy Lee, and Danny Carey of Tool. The camera then turned to Freese, who sat behind his drum kit, saying "Excuse me, guys, could we just like, I don't know, play a song or two? Something?"
Elsewhere during the livestream, the band also premiered three songs (Rescued, Under You and Nothing at All) from their upcoming album, But Here We Are, due for release on 2 June. Fans were also treated to performances of hits like Monkey Wrench, All My Life, and The Sky Is a Neighborhood, as well as a couple of jams honouring Black Sabbath and Huey Lewis and the News.
Those who missed the stream can watch it on demand through 24 May on the Veeps site or app.
Thanks for joining us. It will be streaming on @Veeps for 72 hours on demand if you missed it: https://t.co/hzz5G9mOKy
We'll see you all soon. pic.twitter.com/c7NATC6lzD
— Foo Fighters (@foofighters) May 21, 2023
Meanwhile, Foo Fighters' tour will begin next week (24 May) in New Hampshire. Check out the full list of dates at foofighters.com.
The post Foo Fighters announce new touring drummer Josh Freese appeared first on Guitar.com | All Things Guitar.
Source: www.guitar-bass.net