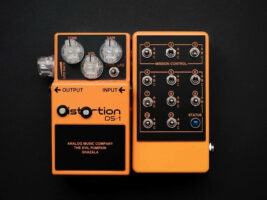 Fortin issues trademark threat to solo Ukrainian instrument builder over Evil Pumpkin name
Fortin Amplification has issued a trademark threat to Kyiv-based Analog Music Company over its Evil Pumpkin product, citing a clash with its US trademark in relation to its as-yet-unreleased amplifier of the same name.
READ MORE: Dean found in civil contempt for ignoring trademark ruling
Analog Music Company's Evil Pumpkin began life as a modded Boss DS-1, with its circuitry extensively changed to turn it into a noisy desktop synthesiser. It is now a fully original unit, technically entitled The Evil Pumpkin Ghazala. It still uses repurposed DS-1 enclosures in part. Fortin's Evil Pumpkin is a guitar amplifier head first announced in 2020. Its release has been delayed due to supply chain issues.
In an email to Analog Music Company's founder Konstantin, shared on Instagram, a lawyer representing Fortin notes that the company owns the trademark for "Evil Pumpkin" in the United States. He then states: "I noticed that your Evil Pumpkin pedals have been sold in the USA. I am sure that you were unaware of this trademark registration so I would like to kindly ask you to stop using the name EVIL PUMPKIN for your pedals as it is infringing the above-referenced trademark."
"Please let me know if you will be changing the name of your pedals. I see you are living in the Ukraine and I wish you well. Stay safe!"
In his response, Konstantin states he has no plans to change the name. He also notes that the Evil Pumpkin name was first used in 2019, and the first product sale was in January 2020, whereas Fortin's trademark in the US was filed in August of 2020. Additionally, his company owns the trademark for the name in Ukraine, where it is based.
Perhaps most crucially, Analog Music Company does not distribute through dealers in the US – its products are sold directly from Ukraine. It is unclear how Fortin's US trademark could force a name change, however, it is perhaps possible that it could stop products entering the US.
The decision has drawn widespread criticism from the gear community. A larger company "lawyering up" against a small business is seldom a good PR move, but in this case Fortin is being viewed by many commenters as particularly callous. It is being pointed out how Russia's invasion of Ukraine has put massive pressure on the entire country, and Fortin could be seen to be exploiting this. On Instagram, Konstantin also called the lawyer's sign off, urging him to stay safe, "cynical."
Konstantin told Guitar.com: "It was quite a shock – because I am a one man operation, assembling pedals literally in my kitchen. Sometimes my friend who is a mother of three is helping me with basic soldering, packing and shipping. She is also in Kyiv, working as a medical worker during the day, and takes an additional job with my pedals to feed her children. So how I or we making pedals literally during air raids are posing a threat to mighty Fortin – is beyond me."
Fortin has not responded to Guitar.com's request for comment, nor has it explicitly acknowledged the situation publicly. However, on its Instagram page, it has removed countless comments defending Konstantin. Some users are also reporting that the amp company has blocked them for mentioning the situation.
This is a developing story.
The post Fortin issues trademark threat to solo Ukrainian instrument builder over Evil Pumpkin name appeared first on Guitar.com | All Things Guitar.
Source: www.guitar-bass.net