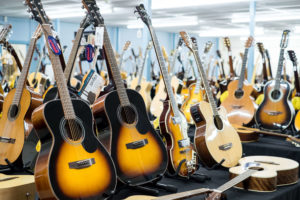 Gardiner Houlgate Guitar Auction, December 2018
Gardiner Houlgate's forthcoming guitar auction takes place on December 12the & 13th, 2018.
Click here to see what's in the auction.
Included in the auction is a vast array of incredible vintage and used guitars and amplifiers, ranging from 60s Gibson archtops to 80s Vox Customs from Japan and back again. They also have two incredible guitars in the form of a 1960s Harmony H75 and a 1961 Hofner Verithin, both of which you can hear in our demo below.
If that wasn't enough to whet your appetite then fear not, as there's also Big Jim Sullivan's signature 2002 JS Legend courtesy of Patrick James Eggle, over 100 lots of Tears For Fears equipment, Telecasters signed by Francis Rossi and Rick Parfitt, plus over 20 lots dedicated to the collection of former Searchers bandmember Frank Allen. Included in Allen's collection is the previously mentioned 1961 Hofner Verithin alongside a plethora of Hofner's from the late 50s and early 60s, plus a 1961 Gibson Barney Kessel Standard and a 1970s Gretsch Country Roc.
This also happens to be Gardiner Houlgate's largest guitar auction to date, featuring over 500 guitars and 80 amplifiers.
Click here to see the full list of equipment and be sure to head there on December 12th and 13th for the auction!The post Gardiner Houlgate Guitar Auction, December 2018 appeared first on The Guitar Magazine.
Source: www.guitar-bass.net