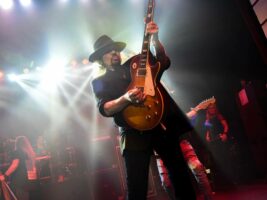 Gary Rossington, guitarist and last surviving original member of Lynyrd Skynyrd, dies at 71
Gary Rossington, the longest-serving original member of Lynyrd Skynyrd, whose slide guitar lines helped the rock anthem Free Bird take flight, has died at the age of 71.
Rossington's passing was confirmed in a statement shared by the band to Facebook on Sunday (5 March): "It is with our deepest sympathy and sadness that we have to advise, that we lost our brother, friend, family member, songwriter and guitarist, Gary Rossington, today."
"Gary is now with his Skynyrd brothers and family in heaven and playing it pretty, like he always does. Please keep Dale, Mary, Annie and the entire Rossington family in your prayers and respect the family's privacy at this difficult time."
It is with our deepest sympathy and sadness that we have to advise, that we lost our brother, friend, family member,…
Posted by Lynyrd Skynyrd on Sunday, March 5, 2023
Aside from Free Bird, Rossington is responsible for laying the guitar work on Lynyrd Skynyrd hits Tuesday's Gone and Simple Man. The guitarist's weapon of choice was a 1959 Gibson Les Paul named Berniece, after his mother.
Rossington's lifelong career with Lynyrd Skynyrd began in 1964, when he was 13 years old. After a pivotal jam session with Ronnie Van Zant and Bob Burns in the Burns' family home, the trio decided to become a band. They brought in guitarist Allen Collins and bassist Larry Junstrom, and began calling themselves The Noble Five, then The One Percent, before eventually settling on Lynyrd Skynyrd in 1969.
Rossington had narrowly escaped death several times throughout his career. In 1976, the guitarist crashed his car against an oak tree while driving under the influence. Then in 1977, he survived the plane crash that claimed the lives of Lynyrd Skynyrd's Ronnie Van Zant, Steve Gaines, Cassie Gaines, and three others. Despite breaking both arms, legs, wrists, ankles and his pelvis, Rossington recovered and continued to play guitar onstage again.
The post Gary Rossington, guitarist and last surviving original member of Lynyrd Skynyrd, dies at 71 appeared first on Guitar.com | All Things Guitar.
Source: www.guitar-bass.net