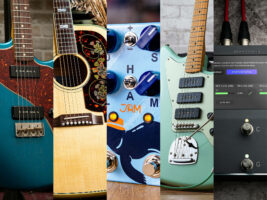 Gear Of The Year: The best new guitars, pedals and amps of 2021
The ongoing pandemic has impacted the guitar industry in myriad ways, and here at the tail end of 2021 we're still feeling the effects of that. On the positive side, the enforced downtime of 2020 led to a huge explosion of people picking up guitar for the first time, or coming back to the instrument leading to a demand for guitars, amps and effects that shows no sign of stopping – leading one industry analyst to declare that for guitar brands, "current prospects are brighter than during the post-Beatles era".
READ MORE: The best Christmas and holiday gifts for guitarists in 2021
If that's the exciting stuff, then the flipside is that many brands are still trying to get back up to speed following the enforced closure of factories and workshops all over the world in 2020, something that has been compounded by the global supply chain crisis of 2021. Across the industry, order books are full, and even the biggest brands are struggling to keep up – in March, even Fender admitted that it was struggling to keep up with the demand for its beginner and intermediate guitars.
Which is all to say that it's been another strange year for guitar, but a hugely exciting one with it. Despite the challenges and obstacles presented to them, the guitar industry has responded with fantastic innovation and creativity over the last 12 months. Whether that's conversation-starting acoustic guitars, revolutionary new developments in the worlds of effects and modelling, or further refinements to some of the most iconic guitars ever made, 2021 has defied the odds to deliver some game-changing gear for us to get our teeth into – here's our pick of the very best of it.
Best Guitar Amp or Accessory
Nominees:
Fender '68 Custom Vibro Champ Reverb
Carr Super Bee
Walrus Audio Mako Series ACS1
Yamaha THR30IIA
Ernie Ball Volt
Boss Pocket GT
Fender Mustang Micro
Best Premium Effects Pedal
Nominees:
Rift Amplification EL34
Mythos Pedals Oracle Analog Echo
Beetronics Vezzpa Octave Stinger
​​​​Gone Fishing Effects Booooom/Blast
Universal Audio Astra Modulation Machine
JAM Pedals Harmonious Monk
Chase Bliss Audio Automatone CXM 1978
Origin Effects RevivalTrem
Cornerstone Gladio Double Preamp
Best Affordable Effects Pedal
Nominees:
Greuter Audio Fokus
Thimble Wasp Space Camp
Stone Deaf QBoost
Becos TS8-JZ
Redbeard Angry Rhubarb
Walrus Audio Polychrome
JHS Legends Of Fuzz Bender
Walrus Audio Eras
EarthQuaker Devices Astral Destiny
Best Acoustic Guitar
Nominees:
Epiphone USA Collection Frontier
Bourgeois Legacy Series 000 DB Signature Deluxe
Eastman AC722CE
Cort Gold Edge
Guild F-240E
Fender American Acoustasonic Jazzmaster
Taylor GT K21e
Cort Core-OC Mahogany
Guild BT-258E Deluxe Baritone
Best Affordable Electric Guitar
Nominees:
Epiphone 1959 Les Paul Standard
Cort G300 Pro
EVH 5150 Series Standard
Guild Starfire I Jet90
Epiphone Inspired By Gibson ES-335 Figured
Cort KX300 Etched
Fender Noventa Jazzmaster
Gretsch G2622T-P90 Streamliner Center Block
Jackson X Series Soloist SLX DX
Best Premium Electric Guitar
Nominees:
Gibson Murphy Lab 1959 Les Paul Standard
Eastman Romeo LA
Ernie Ball Music Man St. Vincent Goldie
Ivison Dakota
Gretsch G6129T-89 Vintage Select '89 Sparkle Jet
Harmony Comet
Fender American Professional II Telecaster Deluxe
Epiphone USA Collection Casino
Rivolta Regata
Trent Model 1
The post Gear Of The Year: The best new guitars, pedals and amps of 2021 appeared first on Guitar.com | All Things Guitar.
Source: www.guitar-bass.net