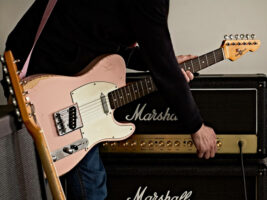 Gear4Music Knoxville Select Legacy review: What's the cost of a relic this cheap?
In the budget guitar conversation, Thomann house brand Harley Benton often steals the spotlight. But those in the UK will be familiar with the brand behind today's review subject: Gear4Music, a retailer with a number of house- and self-branded instruments, varyingly priced across the sub-£250 range.
READ MORE: JS-400 SFG Relic review – is this the best sounding affordable S-type on the market?
And on the bench today is a Gear4Music Knoxville Select. It's a bolt-on single-cut, which caught our eye for one simple reason; it's a relic'd guitar that'll run you up just 150 quid. What to expect from most guitars in this price range is pretty well-established. But a relic?
Image: Gear4Music
Damage Case
Ok, "bolt-on singlecut" sells it a little short. It's a Telecaster-alike, all the way down to the three-saddle bridge and a square neck heel. The only difference in the body's shape is on the upper horn, which is a little blockier than a Fender's. There's still the classic hardware and electronics layout; a chrome-covered neck single coil, an open-coil bridge pickup housed in the bridge plate, and a metal control plate featuring volume, tone, and a three-way blade switch. Like the body, the hardware has had a light pass of ageing.
Unsurprisingly, you don't need a microscope to reveal the fact that the wear is not the result of 70 years of heavy use. But from across a room or up on a dark stage, it gives off a pretty characterful impression – certainly more so than many other budget instruments we've seen. The relic'ing on the body is a mix of templated areas where the final colour coat of the finish was masked off, and relatively deep dings and scratches. With the exception of the saddles, the shine has been taken off hardware, and the finish either removed or masked off from the back of the neck.
For the most part, the effect is convincing enough, and for £150 it seems excessive to split too many hairs about the actual relic'ing process. The main tradeoff for the aesthetic is the feel of the neck – it's fairly rough in the hands, but nothing a few passes with some fine-grit sandpaper wouldn't smooth out. Other than that, there's a general lack of direction to the relic'ing – quite literally, in some cases. The scratch marks on the pickguard mostly head down towards the bridge, rather than across the strings as you might expect years of heavy picking to impart. The deep scratches on the upper horn also don't really spark the imagination as to what sort of playing got them there – it instead feels like a gap-fill in the design, where there was a blank area that needed damage, so it got it.
Image: Gear4Music
Roughness aside, the neck is nice and slim, and the fretwork is acceptable. There's a little grind when bending, but this fades after some playing. More importantly, at no point does the guitar choke out – something almost expected at this price. The machine heads are perfectly cromulent, as are the nut and saddles: it manages to stay in tune throughout some deliberately ridiculous bends, and the intonation comes pre-set at 'good enough for rock 'n' roll.' You're unlikely to get it more accurate than this, however, due to its three-saddle nature.
Plugging in, we immediately notice that the pickups aren't the best. They're plenty microphonic, not to mention whisper-quiet. The latter is somewhat mitigated by raising them, as they arrived pretty far from the strings. Luckily, height adjustment screws for both pickups are accessible without having to remove the pickguard – not the case on all Tele-alikes – but even after raising them they're a little thin. DC resistance readings never tell the whole story, but 4.7K ohms at the bridge and 4.5 at the neck confirm that neither is going to give the front end of your amp anything more than a feeble prod.
The microphonic properties are harder to immediately deal with – microphony can be dampened with some foam underneath each pickup, but without wax potting the pickups it'll never go away entirely. At bedroom practice volume, this is unlikely to present any issues, but in front of a reasonably loud amp, the pickups quickly dive into unpleasant, squealing feedback. In terms of their actual character? Let's just say we're a long way from Nashville.
Image: Gear4Music
But…
The guitar's still plenty fun to play, and, lest we forget, costs less than a round of drinks inside of Zone 1. It's not really for the player who needs that perfect Tele twang. Guitars at this price point are most often picked up by beginners, and on that metric, it's fine that the pickups are microphonic. It's fine that the relic'ing isn't on the same level as a £5,000 custom shop job too. There are plenty of cheap bolt-ons for the same cash, all with perfectly acceptable quality control – but very few of them are aged. All of the frets, the electronics and hardware work. And if you can see the aesthetic encouraging you to pick it up more, that's a great thing – and a great reason to pick one up!
But if you're not a beginner and/or on a very tight budget, you've probably already surmised that the various negatives will outweigh the positives. That is, if you plan on keeping it as-is. Handy with a screwdriver and a soldering iron? That's a different story. A good fret polish, fresh hardware and new electronics could really elevate this guitar, and you've got a very nifty aesthetic for what's otherwise a bog-standard mod platform.
Key features
DESCRIPTION: Single-cutaway solidbody electric guitar, made in China
BUILD: Solid basswood body, C-profile maple neck, laurel fretboard
HARDWARE: Vintage-style tuners, three-saddle T-Type Ashtray bridge, 21 medium jumbo nickel-silver frets
ELECTRICS: Covered single-coil (neck), open single-coil (bridge), master volume and tone, three-way blade switch
SCALE LENGTH: 25.5" (648mm)
FINISH: Soft Pink (reviewed), Blonde
LEFT-HANDERS: No
CONTACT: gear4music.com
The post Gear4Music Knoxville Select Legacy review: What's the cost of a relic this cheap? appeared first on Guitar.com | All Things Guitar.
Source: www.guitar-bass.net