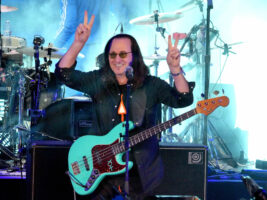 Geddy Lee's new documentary asks Are Bass Players Human Too?
Geddy Lee, vocalist and bassist for Rush, is set to host a brand new documentary series which sets out to answer a very important question: Are bass players human too?
For the new series, he visits fellow bassists Krist Novoselic of Nirvana, Melissa Auf der Maur of Hole, Robert Trujillo of Metallica, and Les Claypool of Primus. It will arrive on Paramount+ on 5 December this year.
READ MORE: Eddie Van Halen's rig builder recalls "torture test" late guitarist used to put his amps through
The docuseries comes in four parts and acts as a follow-up to his new memoir which lands on 14 November this year, My Effin' Life. "I'm trying to show the world that a bass player can do many things," says Lee in the trailer.
In the footage featured, it shows Lee getting into all sorts of antics alongside the fellow bassists featured from making canned goods with Novoselic to surfing with Trujillo.
He will take deep dives into their lives, careers and inspirations within the series, and it will debut in the US and Canada before arriving the following day in the UK, Australia, Latin America, Brazil, Italy, France, Germany, Switzerland and Austria.
Watch the full trailer below:
There's no doubt that Lee is loyal to the bass guitar, but he's an instrument collector all around. In fact, his Rush bandmate Alex Lifeson had said back in 2021 that Lee owns 350 instruments.
"Geddy, on the other hand, I think has around 350, and he did a lot of collecting when he was preparing for his book [Geddy Lee's Big Beautiful Book Of Bass]. And he had also collected some 6-string instruments as well. But he is a collector, he's always been that way. His baseball memorabilia collection is amazing… he's got that bug," he said.
Find out more and stream Geddy Lee Asks: Are Bass Players Human Too? Via Paramount+.
The post Geddy Lee's new documentary asks Are Bass Players Human Too? appeared first on Guitar.com | All Things Guitar.
Source: www.guitar-bass.net