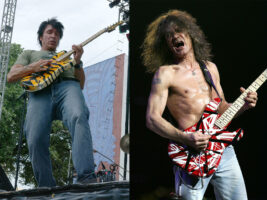 George Lynch says that people thought EVH "wasn't that nice of a person" due to his shy disposition
Dokken guitarist George Lynch has explained how Eddie Van Halen's introverted personality led some people to view him as not "that nice of a person," and shared some stories that contradict this interpretation.
READ MORE: EVH's ex-wife Valerie Bertinelli on Clapton's vaccine comments: "Once a dick, always a dick"
Talking to the Appetite For Distortion podcast, Lynch was discussing the impact of Eddie Van Halen's death on him, in the context of other influences of his passing away. "I mean, David Bowie, George Michael, all these people – Prince – these giants – Tom Petty – all at once it seemed like.
"Eddie was on another level because, obviously, we're a little closer as far as what we do, and we kind of came up through the same place at the same time and had some connections, so that's why it was more profound I think, and I learned a lot from him, and I based a lot of my style on him, he explained.
Lynch was asked if he had any "fun stories" regarding Van Halen, to which he replied: "he was just a super introvert. All the guy did was just sit in his room and play guitar his whole life and drink his beers, smoke cigarettes, and develop what he developed. He changed the guitar world. I think he was burdened with this whole fame thing, and being a human being in a complicated world. It isn't always so nice. He's a super-sensitive guy, which allowed him to be this incredible musician, as you have to have that sort of sympathy and empathy."
Lynch explained: "A lot of people thought he wasn't that nice of a person, but it was just because he was really quiet, he was a little bit scared, but he spoke so beautifully through his instrument."
He then recalled that on the 1988 Monsters Of Rock tour, where Dokken supported Van Halen alongside Scorpions, Metallica and Kingdom Come, he had issues with his guitar gear, and Eddie lent a helping hand. "He was so sweet because he was like, 'Hey, man, take anything you want of mine.'
"So I did half of that tour with his gear. That's pretty insane because headliners usually don't do stuff like that, they go, 'That's your problem, figure it out,' which is fair. He was very sweet, saying: 'Just take anything you want, heads, cabinets.'"
"I used his rig for like half that tour, that was pretty sweet. He gave my son a guitar lesson, too. My kid was going to GIT [Guitar Institute of Technology], and he wanted to be a guitar player like his dad, and I was, I took him to meet Eddie, and Eddie's like, 'You know what? You're a guitar player? Let me show you,' and they went back in the warmup room and gave my son a little lesson."
The post George Lynch says that people thought EVH "wasn't that nice of a person" due to his shy disposition appeared first on Guitar.com | All Things Guitar.
Source: www.guitar-bass.net