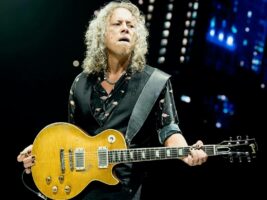 Gibson launches the Custom Shop Kirk Hammett "Greeny" Les Paul for $19,999
Gibson has teamed up with Kirk Hammett to release a Custom Shop edition of his signature 1959 "Greeny" Les Paul Standard guitar.
READ MORE: Brian May on Nuno Bettencourt's guitar playing: "It's so beautiful and it's way out of what I could ever do"
For $19,999, a Murphy Lab-aged take on the legendary six-string will be yours to take home. Originally owned by Fleetwood Mac founder Peter Green, Greeny was sold to Gary Moore — who used it for three decades with Thin Lizzy and as a solo artist — before it eventually landed in the hands of Hammett.
Featuring a lightweight mahogany body, figured maple top, mahogany neck, and Indian rosewood fretboard, the guitar comes with Custom Greeny Bucker humbuckers — one of which is mounted in reverse — to maintain the distinct out-of-phase middle position sound the original is known for.
Other period-accurate details such as a nylon nut and Sperzel tuners are also included. And given the eye-watering price tag, each Greeny will come packaged in a Brown/Pink Lifton reissue five-latch case. Players will also get a Certificate of Authenticity and a Gibson Custom Shop Switch Plate Medallion.
"I am very honoured and grateful for this opportunity with Gibson," said Hammett of the release. "To be able to share some of that mojo which 'Greeny' has means a lot to me. It's exciting to know that anyone can experience some of that 'Greeny' magic. I truly think these models are just as inspiring as the original and hope you do too!"
"Over the last 10 years since he became the custodian of Greeny, he has incorporated the Greeny sound into everything he does, making it a staple of his Metallica sound on records and on stages around the world. And as I said before, we're just getting started!" Gibson Brand President Cesar Gueikian added.
That said, for those who don't have twenty grand to spare, a USA Standard edition of the Kirk Hammett "Greeny" Les Paul is set to hit the shelves on 11 April. While a price hasn't been announced yet, players should see a significant price drop given the lack of Murphy Lab ageing on the standard version.
Learn more at gibson.com
The post Gibson launches the Custom Shop Kirk Hammett "Greeny" Les Paul for $19,999 appeared first on Guitar.com | All Things Guitar.
Source: www.guitar-bass.net