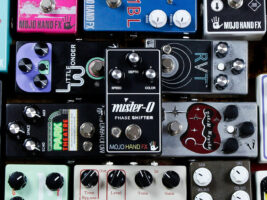 Gibson sends Mojo Hand FX cease and desist over Mister-O phaser, citing similarity to the Maestro trademark
Mojo Hand FX has shared a cease and desist letter it has received from Gibson, which claims its recently launched Mister-O pedal infringes on Gibson's Maestro trademark.
READ MORE: Origin Effects and Revival Electric spar in trademark battle over RevivalDRIVE
The trademark for the Maestro brand name, including the italicised font, is owned by Gibson. This incarnation of the mark was filed in 2012.
The letter posted to Mojo Hand FX's Instagram claims that Mojo Hand's Mister-O branding is "substantially similar to Gibson's Maestro." It also claims that the use of the mark "unfairly capitalises on the goodwill and reputation embodied in Gibson's Maestro mark. The public will and likely has already mistakenly believed that Mojo's use of Gibson's Maestro mark is authorised, sponsored by, or is somehow affiliated with Gibson."
The letter then claims that it is "imperative to Gibson to not only protect its consumers from the confusion that could potentially occur by allowing the continued sale of the unauthorised Mister-O guitar pedal but to also protect the legacy and enormous investment in the goodwill embodied in Gibson's Maestro mark."
Mojo Hand Effects captioned the image, in response to the letter: "We'd like to apologise to any of our customers that mistakenly somehow felt they were buying a Gibson product when they purchased a Mister-O phase shifter.
"We are in no way associated with Gibson USA, and never will be. Not one single trace of the original circuit of the Maestro phaser from 50 years ago was copied, we only used our ears and Dave's programming skills to create our pedal as an homage to the original phaser made by good people back in the day when things were simpler, and the original Gibson we all knew and loved was still building guitars just down the road from us in Kalamazoo."
View this post on Instagram
A post shared by Mojo Hand Fx (@mojohandfx)
Guitar.com has reached out to Gibson for comment regarding the letter and Mojo Hand FX's response.
The Maestro phase shifter was one of the first adjustable phase shifter pedals to be available. Mojo Hand FX's Mister-O's sound was inspired by this vintage phaser approach, however with some extra control added. For instance, the original had three selectable speeds, while the Mister-O added a knob for a wider range of speed adjustments.
Mojo Hand's Mister-O was first launched in March of this year. It is not clear as to why Gibson has only now decided to send a cease and desist – however, it's possible that the brand is planning to use the trademark on a new product.
Precedent for this was set last year, when Gibson entered into a trademark battle with Satellite Amps over the Coronet trademark. In November 2020, an official reissue of the Epiphone Coronet arrived.
The post Gibson sends Mojo Hand FX cease and desist over Mister-O phaser, citing similarity to the Maestro trademark appeared first on Guitar.com | All Things Guitar.
Source: www.guitar-bass.net