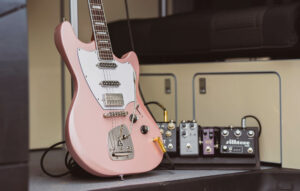 Guild Surfliner Deluxe review: second time's the charm
Guild's brand new/retro Surfliner model made quite a splash when it hit the market in 2022. The attractive looks and just as inviting wallet-friendly price certainly garnered attention. There were some players – this reviewer included – who wondered if a hardtail guitar could really wear a mantle so inextricably linked with the delicious boiiing of a floating trem. Aside from Charvel's opinion-dividing Surfcaster model of the 1990s there was little in the way of precedent.
READ MORE: Cort G250 Spectrum review: Cort in the 80s
All that has changed now, however. Behold the Guild Surfliner Deluxe which adds a newly-designed Guild-branded floating vibrato to the beguiling initial recipe.
The body shape is unchanged. Sleek and quite frankly looking like a far more expensive instrument. The colours are beautiful – we had a look at the Rose Quartz Metallic and Evergreen Metallic versions but there is a choice of Black Metallic too. Even the nozzle headstock gets a matching coat of paint which ups the ante considerably.
There's a roasted maple neck with block inlays and locking tuners too – a relief considering the amount of hooligan wang-bar behaviour that we foresee in this instrument's future.
The pickups remain almost the same: a pair of DeArmond Aerosonic single coils and a Guild HB-2 humbucker in the bridge position. Gone, however, are the kitschy-poo rocker switchers of the original model. Instead we have a more knuckle-friendly five-way selector switch. This, alongside single volume and tone controls offers as much potential for sonic tweakage as any player is likely to need.
IN USE
We plug into a vintage Vox AC15 and arrange a frankly alarming selection of boosts, compressors, fuzz and real tape delay with which to hit the Surfliner amidships.
Starting with the neck pickup, we are immediately impressed. This is a very convincing sound indeed – flutey and detailed with an engaging spank to the voice.
Neck and middle pickups together give a beautiful in-between sound. It's not a Strat but it's mighty fine all the same. The middle pickup on its own is also a joy. Twangy and hot with enough spite to achieve convincing spaghetti western results.
The bridge humbucker, while a nice idea in theory, is not as immediately effective as its slender siblings. For one thing, we really miss the sound of a bridge single coil. Secondly, the larger format is a little tricky to negotiate when hammering the sixth string with wipe-out style pick trills. Yes, you can get around it, but there's no denying that an angled bridge pickup gives you more room for manoeuvre.
Star of the show is the G-branded wiggle-stick which – in conjunction with the locking tuners – makes this a far more stable guitar than we expected. From evocative trembling to cro-magnon dive bombs, the Surfliner Deluxe handled it all and asked for more.
KEY FEATURES
PRICE £669
DESCRIPTION Double-cut offset-waist solidbody electric guitar, made in Indonesia
BUILD Contoured poplar body, bolt-on roasted maple neck with 10" radius maple fretboard, 23 medium jumbo frets and composite nut
HARDWARE Guild Floating Vibrato system, locking tuners
ELECTRICS 2x DeArmond Aerosonic middle and neck pickups, 1x Guild HB-2 bridge pickup, five-way selector switch, master tone and volume
SCALE LENGTH 25.5"/648mm
NECK WIDTH 43mm at nut, 51mm at 12th fret
NECK DEPTH 22mm at first fret, 24mm at 12th fret
STRING SPACING 35.5mm at nut, 52.5mm at bridge
WEIGHT 3.3kg/7.2lb
FINISHES Rose Quartz Metallic (as reviewed), Evergreen Metallic, Black Metallic
LEFT-HANDERS No
CONTACT guildguitars.com
Like this? Try these
Vintage Guitars Icon V65V £449
Eastman Juliet £1,859
Fender American Vintage II 1966 Jazzmaster £2,339
The post Guild Surfliner Deluxe review: second time's the charm appeared first on Guitar.com | All Things Guitar.
Source: www.guitar-bass.net