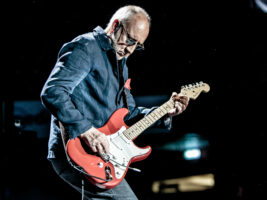 Guitar owned by The Who's Pete Townshend could fetch £20,000 at auction
A guitar gifted by The Who's Pete Townshend to a friend whose guitar was stolen could fetch up to £20,000 at an auction in Wiltshire next month.
READ MORE: Corey Taylor slams AI in music, calls it an 'even worse example of technology taking over talent than Pro Tools'
The guitar, a 1989 Takamine FP-360SC electro-acoustic, was given by Townshend to a friend known as 'Robert' in the 90s, after Robert's own six-string was stolen from his flat in London. When Robert died in 2014, the guitar was inherited by the vendor, who wishes to remain anonymous.
In 2018, the vendor contacted Townshend to confirm the guitar's provenance. The musician, who remembered Robert as 'a sweet man', subsequently signed an email to authenticate the tale.
The Takamine is believed to have been used on stage during The Who's 1989 25th anniversary tour of America and the UK, as well as during solo performances by Townshend.
Image: Gardiner Houlgate
Hosted by specialist music auction house Gardiner Houlgate, the auction will take place at Gardiner Houlgate, 9 Leafield Way, Corsham, Wiltshire, SN13 9SW on Wednesday, 14 June. Other items going up for sale include a bass amplifier and speaker used by The Who's late bass player John Entwistle, with cases bearing the band's logo.
Auctioneer Luke Hobbs said: "Pete Townshend is one of the great pioneers of rock guitar so it's a real honour to be able to sell one of his instruments. With The Who still so popular around the world, we're expecting international interest.
"Although he says it's a wrench to see such a guitar go, the vendor has now reached the stage of his life at which he feels it should be enjoyed by a fan of the band rather than be kept in its case."
Townshend's guitar will be available for public viewing through 12-13 June from 9am–5.30pm and on the day of the sale itself.
Learn more at gardinerhoulgate.co.uk
The post Guitar owned by The Who's Pete Townshend could fetch £20,000 at auction appeared first on Guitar.com | All Things Guitar.
Source: www.guitar-bass.net