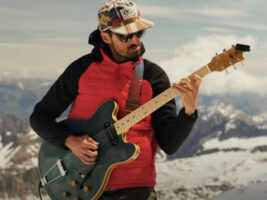 Guitarist climbs 3,200m up mountain to play sustainably-made guitar in support of conservation
Catalan guitarist Jordi Mestre Lopez, creator of the Soul Mountain project, has recently released a new track in support of conservation efforts of the Pyrenees mountain range, recorded using a sustainably-made custom guitar.
Lopez' custom model has been built by a friend of his who is also a luthier, and was crafted using locally-sourced materials to keep his carbon footprint low.
READ MORE: How the hidden costs of climate change drove a guitarist to record on the peak of one of Catalonia's tallest mountains
Soul Mountain sees Lopez play and record compositions on top of his favourite summits at different times of the year and capture the whole process on video in order to mix the sounds with breathtaking images.
For his latest video, he treks up the Aneto Glacier to Collado Maldito where he performs his new original track, Canción Maldita, which translates to "Cursed Song". It features vocals and lyrics by Alidé Sans that address the climate crisis, and as he explains in the video, the song's title is inspired by the fact that himself and his video production team couldn't reach the summit due to strong winds. Despite this, they did still make an impressive distance of 3,200m.
Watch the video below, which features glistening tones from his custom guitar, which Lopez says was made to his exact specifications:
The song is in support of the Kilian Jornet Foundation, which supports the conservation of the stunning locations featured in Lopez' videos. Those who want to support the project can donate to the foundation, and receive a download link of the song to keep in return.
Speaking to Guitar.com of the Soul Mountain project back in 2020, Lopez said to us, "The idea for the project originated a long time ago, while I was on one of my 10-day hiking trips.
"I took a ukulele to play on top of the peaks, and later I just thought, 'Why not an electric guitar? What will the experience be like?' I did some research and saw that no one had done anything like that. Well, after my first experience I already know what it's like – it's so freaking difficult, don't try it! No, really, it's truly fantastic."
You can visit the Kilian Jornet Foundation's website to donate now.
The post Guitarist climbs 3,200m up mountain to play sustainably-made guitar in support of conservation appeared first on Guitar.com | All Things Guitar.
Source: www.guitar-bass.net