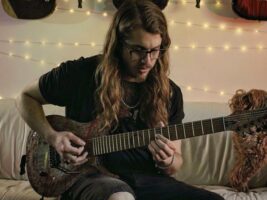 Guitarists show support for Ice Nine Kills' Dan Sugarman after health scare
Guitarists have been sharing their support for Ice Nine Kills' Dan Sugarman after he had to pull out of Metallica support slots due to a medical scare.
READ MORE: Rage Against the Machine to be inducted into the Rock & Roll Hall of Fame
In a statement made to Instagram, the guitarists shared a rather sad health update:
"Not too long ago, amidst finalising with the INK team my return to the touring situation, so I could finally step back on stage with my boys and play these songs that we poured our hearts into, we found a lump on my neck. Fast-forward through a bunch of biopsies, MRIs, a bunch of sleepless nights, I got the call that nobody ever wants to hear.
"I have a team of incredible doctors that I trust in, we have a plan, and I am ready to continue my healing surrounding by friends, family, loved ones and the amazing support of people like you.
"That said, it's become apparent that I will have to sit home and sit out, at least on the very beginning, of the tour of a lifetime – literally the tour of my dreams, all in order to focus on my health and my healing. This way, I can get back out on the road with my boys as soon as humanly possible."
You can watch the full statement below:
View this post on Instagram
A post shared by Dan Sugarman (@dansugarman)
Guitarists flocked to the comments to share their love and support:
"Love you Dan," said Ricky Armellino. "Thanks for all you have taught me and continue to teach me. Right behind you".
"Sounds like a hell of a decision to make but you made the right one," comments Angel Vivaldi. "Glad you're putting your health above and beyond anything, hope you get everything sorted asap".
Instead of a GoFundMe campaign, Sugerman is offering a variety of things for sale, including "merch, coffee, tab books, Bloodline guitar cable, Murder Axe guitar, guitar lessons, artwork, cameos, my music, and anything else that speaks to you".
You can visit Dan Sugerman's shop by heading to SugarmanShop.com
The post Guitarists show support for Ice Nine Kills' Dan Sugarman after health scare appeared first on Guitar.com | All Things Guitar.
Source: www.guitar-bass.net