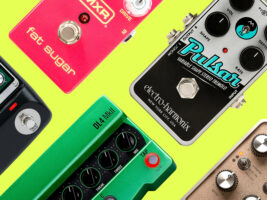 Here are the best pedal deals from Guitar Center's 2023 4th of July Sale
The 4th of July is nearly here – but Guitar Center's 4th Of July sale has already arrived! There are plenty of deals across the store – let's take a look at the best guitar pedal deals the brand's rolled out.22
$80 off Universal Audio Golden Reverberator
This high-end digital reverb machine is discounted by a whole $80. Three gorgeous reverb algorithms, Spring 65, Plate 140 and Hall 224, each offer a different flavour of spatial manipulation – from gritty spring, lush plate to expansive halls, this deal is a chance to grab an ambient dream machine at a hefty discount.
Check deal at Guitar Center
$50 off BOSS RE-202 Space Echo
This is the most fully-featured recreation of the famed multi-head Roland Space Echo multi-head tape delay unit Boss has made yet. There are controls for basically every part of the virtual tape machine, including adjustable tape age, saturation, wow and flutter, and 12 head arrangement modes to choose from. It's an incredibly powerful delay unit, and now's your chance to save a chunk of change as you pick one up.
Check deal at Guitar Center
$80 off Line 6 DL4 MkII Delay
The original Line 6 DL4 is a classic for a reason, and this recent upgrade takes it into the modern era with more convenient power requirements, and a sturdier (though just as green) enclosure. There's also a whole host of new algorithms alongside the old ones, making it extra great value considering Guitar Center's lopped off $80.
Check deal at Guitar Center
$36.36  off Electro-Harmonix Nano Pulsar
The Nano Pulsar was already affordable, and this further saving means it's just a hair under $70 for a stereo, dual wave-shape tremolo unit. With a nano form factor, it'll be an easy squeeze onto your 'board, too, and luckily it comes with an output control to compensate for the output level drop tremolos can sometimes introduce.
Check deal at Guitar Center
$30 off MXR Fat Sugar Drive
This excellent and boldly-coloured overdrive pedal is MXR's take on a certain mythical overdrive, featuring the unique clean-blend drive control and an ultra-transparent frequency response to keep the character of your guitar intact, even when you crank things to max. A $30 saving drops it down to just under $100 – so what are you waiting for? It's certainly more affordable than, say, $500,000!
Check deal at Guitar Center
The post Here are the best pedal deals from Guitar Center's 2023 4th of July Sale appeared first on Guitar.com | All Things Guitar.
Source: www.guitar-bass.net