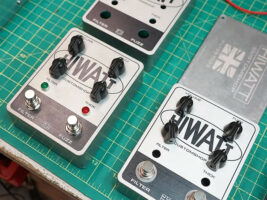 Hiwatt launch the Filter Fuzz MKII pedal, limited to just 201 units on Reverb only
Hiwatt has launched its brand new Filter Fuzz MKII pedal, with only 201 units available exclusively on gear selling and buying site, Reverb.
READ MORE: DiMarzio teams up with Periphery's Jake Bowen for a set of signature Mirage pickups 
The Filter Fuzz MKII is a classic British late '60s inspired Fuzz, with upgraded features and curated filtering. Hiwatt says it is capable of everything from smooth soulful overdrive, to gritty snarly explosive fuzz.
The creation of this new pedal was a happy accident – the brand's master amp tech, Calvin McCormick, unintentionally placed a capacitor in parallel with a resistor instead of to ground on one lucky day, and the unique sound created was the beginning of what would eventually become the Hiwatt Filter Fuzz.
Each pedal is handwired to order (so allow for three-week lead time between your order and shipping if you decide to grab one), and the most prominent features are as follows:
Volume to spare, Hiwatt claims you won't drop out of the mix when engaging this pedal, despite how much gain you're using
An optimised sweep to make the fuzz control usable across the entire range
A Thick control which allows more bass into the circuit
Curated Filtering (roll off frequency control) for Mid Range focus and tonal options  – Filter 1: Upper mid focus to cut through the mix or "slice your bandmate's heads off". Filter 2: Mid focused, said to provide boost without getting too harsh or brittle. Filter 3: Lower mid focused, which should fill out your single coils or add extra girth to an already thick tone.
An internal bias control
Take a look at the video below to hear it in play:
The HiWatt Filter Fuzz MKII is available for £199.57 on Reverb.com.
The post Hiwatt launch the Filter Fuzz MKII pedal, limited to just 201 units on Reverb only appeared first on Guitar.com | All Things Guitar.
Source: www.guitar-bass.net