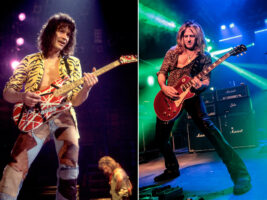 "I immediately made a mistake": Doug Aldrich on the pressure of playing in front of Eddie Van Halen
Doug Aldrich, guitarist in The Dead Daisies, previously spent some time in Eddie Van Halen's prestigious 5150 studios, where he even got to borrow some gear used by the guitar icon. Aldrich, who also formerly played guitar for bands such as Whitesnake and Dio, recalls caving under pressure when Halen was around as he was trying to play an e-bow guitar part.
READ MORE: Watch Dave Grohl, Chad Smith and Taylor Hawkins' son Shane cover Led Zeppelin, Queen, AC/DC and Van Halen classics
In a new interview on The Jeremy White Show, Aldrich remembers getting to open for Van Halen in France while playing with one of his early bands, when Van Halen were already soaring to success.
It's always nice to hear stories of guitarists helping other guitarists out, and as he recalls, the Van Halen bunch were happy to lend gear to others, noting how Halen's tech allowed him to use some of his equipment when Alrdrich once had a problem with his rig (transcribed by Ultimate Guitar): "You hear about bands that would not be super nice to opening acts," he says. "But they treated us very well."
Earlier in the interview, he reflected on his time at Halen's studio space, where he also got to use some more of his iconic gear: "I got to go 5150 once. I was working with the producer Andy Johns, and he was working on [Van Halen's 1991 LP] For Unlawful Carnal Knowledge. He goes, 'We should go to Eddie and borrow some gear' So, we go up there. I was outside 5150 having a smoke, and Andy was talking to the studio manager about borrowing some speakers, a power amp, and a baritone guitar.
"All of a sudden, this Range Rovers comes up the driveway, and there's Eddie. I happened to have some brand-new harness boots, and the first thing he says is, 'Hey, new boots man!'
"But, it turns out that baritone guitar was used on [Van Halen's first live album] Right Here, Right Now," he states.
Aldrich later remembers, "One time when I was in the studio, Eddie came to visit Andy. And I was sitting there, doing an e-bow part. Eddie had his eye right on me [leans into the camera to demonstrate], and I immediately made a mistake."
You can watch the full video below:
To catch The Dead Daisies on tour, visit their website for tickets.
The post "I immediately made a mistake": Doug Aldrich on the pressure of playing in front of Eddie Van Halen appeared first on Guitar.com | All Things Guitar.
Source: www.guitar-bass.net