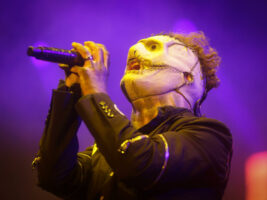 "I maybe have five years left": Corey Taylor describes Slipknot tours as "hard fucking work"
Corey Taylor has opened up about the demands of touring with Slipknot, describing it as "hard fucking work".
Taylor, who's been frontman of the masked metal icons since 1997, turns 50 in December and said in the summer that he thinks he has "maybe five years left" of touring with the band at the same level.
READ MORE: Corey Taylor says this is Slipknot's most overrated song
And in a new interview with Rock Feed, he expands on previous comments, and discusses his physical ailments. He says, "I've already said that physically I maybe have five years left, but at the same time, I go out of my way to really try to take care of myself".
"Now I have a lot of fucking miles on me. It's hard for me. People don't realise this, but when I walk, I'm almost in constant pain. It's the knees, it's my feet. I have a broken toe on this foot. I have gout across my feet. It gets up into my joints and shit. Yeah, it's tough. I'm not as nimble as I used to be. I'm not 35 anymore. It's hard, but there are ways to do shows that don't require being that crazy now."
Also in the interview, he explains how "travel doesn't lend itself to being healthy" because you "eat like shit" and "sleep like shit".
He adds, "Even a guy at my level, it's not always laid-out catering and the best food and the best people. Sometimes it's a soggy sandwich at 12:30 in the morning, and you're looking at it, going, 'If I put this in my body, I'm gonna throw up'.
"People don't fucking get that. You know why they think that? It's because that's all they see on Instagram, on TikTok, on this and that, and you're seeing the commercials. There have been times we've gotten off stage, we've gone right to the airport, flown out. We don't sleep until seven the next day. And now we're just all [exhausted]."
This year, Slipknot have been on the road in support of their latest album, 2022's The End, So Far. Meanwhile, Taylor's second solo album CMFT2 is out on Friday (15 September), and he'll be embarking on a solo tour around the UK and Europe in November.
The post "I maybe have five years left": Corey Taylor describes Slipknot tours as "hard fucking work" appeared first on Guitar.com | All Things Guitar.
Source: www.guitar-bass.net