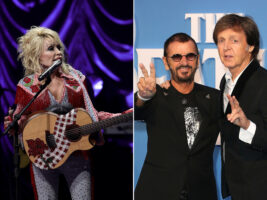 "I was so honoured": Dolly Parton on working with Paul McCartney and Ringo Starr on new Let It Be cover
Dolly Parton's newest album Rockstar is here, and it might not be what you expect. Instead of the country she's known and loved for, it is instead a compilation of rock songs as well as some pretty iconic covers with some equally iconic musicians.
The album sees her take on Every Breath You Take with Sting, Free Bird by Lynryd Skynryd and, of course, Wrecking Ball with goddaughter Miley Cyrus. However one of the most impressive feats is Let It Be with Paul McCartney and Ringo Starr.
READ MORE: Joe Satriani on the "really frightening" prospect of playing Eddie Van Halen's guitar parts for the upcoming tour
In an interview with Smooth Country Radio, Parton spoke to Eamonn Kelly about the collaboration.
"It's been one of my favourite Beatles songs ever and I love Paul," she explains. "And so I had recorded it and I thought, 'wow, I wonder if Paul would even consider playing and singing on it'. And so I contacted him. He was so gracious. I'd met him different times through the years. He's always so nice and he said he'd be on it and I was so honoured that he was honoured.
"So actually he did a wonderful job and the fact that these people are so busy, and they all took the time to do it, and then I thought, well, we got to have Ringo, because that's the last of the Beatles!" Parton continues. "So I asked Ringo if he would do it. Same thing, 'I'd be glad to do it'."
However it's not just the Beatles duo that grace the track, as Mick Fleetwood and Peter Frampton also make an appearance on percussion and guitar. "It's really a star-studded song," she explains.
You may be thinking why Dolly Parton, Queen of Country, decided to release a rock album, and the answer comes from her induction into the Rock and Roll Hall of Fame last year.
"I didn't think that was a good idea because I didn't think I'd earned it. I'd spent my whole life in country music," Parton reveals.
"But they convinced me that it was for more than that. And so I wasn't going to act ugly about it. So they put me in anyway. And I thought, 'well, I'm going to have to earn this title'. So I decided to do a rock album, at the same night that I was going into the Hall of Fame."
The post "I was so honoured": Dolly Parton on working with Paul McCartney and Ringo Starr on new Let It Be cover appeared first on Guitar.com | All Things Guitar.
Source: www.guitar-bass.net