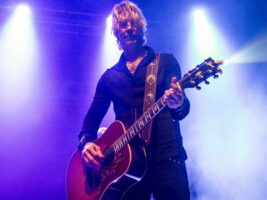 "I'm not worried about it. It's not gonna affect my creativity": Guns N' Roses' Duff McKagan on AI
In 2023, you can barely browse the internet without seeing a mention of artificial intelligence. The technology is here to stay, and as such, the past few months have seen musicians far and wide offer their two cents on how they see the future of music shaping up with AI.
In a new conversation with author Dan Jones, Guns N' Roses bassist Duff McKagan shares his thoughts on the use of AI in songwriting, as well as touching upon the inspiration behind his forthcoming solo album, Lighthouse.
READ MORE: "When we wrote this song it was like the immaculate conception": Guns N' Roses give Perhaps its live debut, and tease another new song
He strikes a somewhat dismissive stance on the technology, saying [via NME]: "You're gonna always have guys like me who [have] just got their middle finger up. They're gonna just keep creating and not even pay attention to it, really. I don't pay attention to it. I'm not worried about it. It's not gonna affect my creativity."
Instead, McKagan says he draws inspiration for his songwriting from the support he has from his family.
"I've got a really good situation at home… having that kind of ease at home and that support has really done wonders for me.
"That tenderness and that passion and that sense of roundedness and love and harmony, allied with that deep sort of punk rock sensibility [has] created this incredible, unique sound on Lighthouse."
Duff McKagan is due to drop Lighthouse, his third solo album on 20 October. The record, which was previewed by its title track back in June, is set to feature contributions from his GNR bandmate Slash, as well as Jerry Cantrell of Alice in Chains and Iggy Pop.
Upon its announcement, McKagan elaborated on the inspiration behind the album. Lighthouse, he said, has a central theme of finding light amongst darkness.
"The crashing… the cresting waves, the falling through of all that surrounds you. Life sometimes tosses us around, and we feel the want of comfort and the pull of home.
"A ship tossed like a toy through the Cape, sails ripped and the wood groaning with the scraping of its ballast…. a soul trying with all its might to find peace and a centre."
He adds, "Find a lighthouse. I have my lighthouse…. its beacon swirling in the darkness with her warmth and promise of nurture, love, laughter, and all that is true. Won't you be my lighthouse, give me light,… and bring me home."
The post "I'm not worried about it. It's not gonna affect my creativity": Guns N' Roses' Duff McKagan on AI appeared first on Guitar.com | All Things Guitar.
Source: www.guitar-bass.net