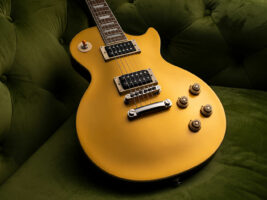 In pictures: Gibson confirms Epiphone Slash Collection at Summer NAMM 2021
Summer NAMM 2021: Gibson has officially announced an Epiphone edition of its Slash Collection, alongside signature guitars for Tony Iommi, Jerry Cantrell and Nathaniel Rateliff.
READ MORE: Summer NAMM 2021: Gibson Custom Shop debuts the 1958 Korina Flying V and Explorer
READ MORE: Review: Gibson Slash Collection Les Paul Standard & J-45 Standard
The Epiphone Slash Collection, which Slash himself teased back in January, is set to officially debut on 20 July. The series – a more affordable line of guitars based on the Gibson Slash Collection – includes include the Slash Les Paul Standard, Slash "Victoria" Les Paul Standard Goldtop and Slash J-45 acoustic guitar.
"Our new Epiphone Slash Collection brings our collaboration with Slash to the next level, expanding the offering of the iconic Slash models to Epiphone with an accessible price point," said Cesar Gueikian, Brand President at Gibson.
He added: "Slash was intimately involved in every aspect of the development of his new Epiphone Collection, and we are all excited to see his fans around the world rock out with them!"
Take a first look at the guitars, which should arrive next month, below.
1 of 5
All images: Eleanor Jane
First off the line will be the Gibson USA Tony Iommi SG Special due out 17 August, followed by the Gibson Custom Shop Jerry Cantrell "Wino" Les Paul on 24 August, and Gibson Acoustic's Nathaniel Rateliff LG-2 Western Acoustic in Vintage Sunburst on 31 August.
Gibson's other announcements today (15 July) include a new Original's Collection Non-Reverse Thunderbird bass guitar and the Gibson Custom Shop 1958 Korina Explorer and Flying V.
The post In pictures: Gibson confirms Epiphone Slash Collection at Summer NAMM 2021 appeared first on Guitar.com | All Things Guitar.
Source: www.guitar-bass.net