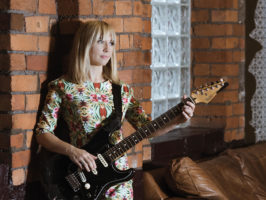 Interview: Ritzy Bryan of The Joy Formidable
In just over a decade The Joy Formidable have gone from their hometown of Mold to opening arenas for the Foo Fighters, thanks in no small part to their kinetic brand of stripped-down rock. Huw Baines meets guitarist and frontwoman Ritzy Bryan to talk Fenders, digital rigs and Elvis Costello…
The first thing to note about The Joy Formidable's new album, AAARTH, is that it nearly didn't happen. In another world, 2016's Hitch was etched into the history books as The Joy Formidable's final LP. "Going into the studio, especially in this band, is not always a cathartic thing," vocalist and guitarist Ritzy Bryan says, while sat on a fathoms-deep sofa at Cardiff's Clwb Ifor Bach. "It's an emotional journey. We've done enough records to know what the process can end up bringing out. It's definitely affecting, and we were questioning whether or not we were in the right frame of mind to go there."
Prior to recording, Bryan admits that bassist Rhydian Dafydd was working through some "pretty horrible, ugly stuff", while she also stared down a case of writer's block for the first time in her career. Rather than enter the studio with a spring in their step, and a stack of ideas in their pockets, the band hit record with the feeling that they had nothing
to lose. But from the moment Y Bluen Eira's crushingly heavy riff smashes through the speakers, driven by a thunderous performance from drummer Matthew James Thomas, it's clear that a high stakes game suited them just fine.
"There was kind of a relief element that we were enjoying it and we were still the band we set out to be right at the beginning," Bryan says. "We didn't want to be unravelled by this industry. We've always seen each other as having the tenacity and balls to have a long career. To get to the point where we felt like we'd been beaten brought in a different emotional quality that went somewhere hopeful. This anger was channelled in a good way."
Breaking Rules
AAARTH is a multifaceted record. It's home to the usual generous helping of Bryan's rich vocal hooks, but it's also happy to spin off in any direction it chooses, whether that's the creeping weird-pop of Cicada (Land on Your Back) or an old school glam-rock rager such as What For. Its sharp edges are resolute and confrontational, with requests to tone the guitars down for radio play swiftly ignored. After recording Hitch in North Wales, which was a case of heading home for the group, this LP was tracked in Utah, where they quickly embraced the spirit of experimentation under a boundless sky.
"If ever there was a tiny The Joy Formidable record-making rulebook, it got thrown out of the window and it was a real free for all," Bryan says. "It changed the perspective on the production. The guitars feel more playful. They come and go, and there are lots of different sounds. When we were looking back at these sessions the word collage came up a lot. It was like the programme Spaced, where [the character] Brian is just fucking throwing paint at a wall. There was definitely a bit of craziness."
Rubber stamping their power-trio credentials, Dafydd played like a second guitarist throughout the sessions and often provided the initial impetus for songs with some uncompromising bass riffage. They then utilised MIDI sounds and Guitar Rig alongside some vintage kit, allowing them to follow their collective muse without becoming bogged down in what Bryan terms a "gearhead maze". A case in point can be found in the tangled web of a solo that lights up the chugging single The Wrong Side.
"It has so many filters and delays happening one after another," Bryan says. "It's not that you couldn't do that with an analogue setup, because you could, but it's whether you would get to that place as quickly and not lose some of the beauty of the momentum within that. We've got that digital side combined with some nice tube distortions and I've never really swerved from my very first amp, which is a Fender Hot Rod."
Going Digital
This balancing act is replicated when the band stride on stage later that night. In Cardiff, Bryan is travelling light – the show is one of two, along with a night at London's Lexington, slotted in prior to Reading and Leeds festivals – before rolling out a newly finessed setup to open for Foo Fighters at enormodomes in the US and Canada. Over time, and as The Joy Formidable's discography has deepened, she has come to believe that less is sometimes more. That's true whether she's in the studio or attempting to melt faces at a hundred paces live.
"We've always got a few toys to play with, but not so many that we get lost," she says. "At the end of the last cycle I had a really big analogue board. It was a thing of real beauty and I loved it, but across so many records, when you need to get a lot of different effects, I've had to streamline it. Guitar Rig gives me a lot of choice. I'm using those two worlds."
To complement her Fender amp, Bryan is an avowed Stratocaster fan. She has a US model that remained in heavy rotation while recording AAARTH – without ever making it out on the road just in case – but also a guitar from humble beginnings that became a star in a supporting role. "I picked up a really fun SG copy from a tiny little shop in Mold, North Wales," she says. "I really like that on the record. It's got really good resonance and it's easy to play even though it hasn't had any love. It's got a great feel to it, and nothing special going on in the pickup world or anything."
Bryan's love of Fender goes back to the very beginning. Her first guitar was a 90s-era Mexican-made Strat and it retains a special place in her heart despite having been through some tough times. "It lives at home in the studio with me," she says. "It's seen better days. It had a nut accident about seven years ago and the person I sent it to fix it didn't do a very good job. He butchered it.
"I've got a really good guy now who can fix and modify a few things, so he sets up for me. He's done the best job of fixing this guitar, but it's noticeably not a recording guitar. It's fucking beautiful. If you play all my Strats – I've probably got one from most decades, a few US ones – it's without a doubt got the nicest, warmest tone. It's full bodied. It's just got a few intonation problems."
Elvis Lives
Along with the Strats, something else that can be traced back to Bryan's earliest musical experiences is her belief that the song should always come first. When asked which guitarists first inspired her to see the instrument as something more that steel and wood, it's not a fretboard wizard that comes to mind. Instead, it's a snotty, bespectacled punk who now commands a
place as one of the UK's most respected songwriters: Elvis Costello.
"I saw him as a young child in Liverpool, when he was playing a homecoming show, and it was electric," she says. "I was about seven years old and I went home and asked my parents if they would buy me all his songbooks. I'd started dabbling with poetry and classical guitar and there was something about his sneering, aggressive set. He's a great lyricist and it left a really big impression. All of a sudden these words, this poetry, could go hand in hand with this guitar that I'd started to play. That was the starting point. My songbooks date from that year, when I first went to see him in concert."
Now, 11 years into their career, not to mention four LPs and dedicated followings on both sides of the Atlantic, The Joy Formidable are now in the business of opening doors as Costello once did. Bryan's playing – ferocious and precise but somehow wistful and open-ended – remains the focal point of their sound.
She is one of a number of female guitarists helping to shift an industry balance that has always been dominated by men. But it's clear times are changing. From the pop visionary St Vincent – with whom Ritzy shares a free-flowing experimental approach to the guitar – to fellow deliverers of dextrous distortion such as Lzzy Hale or Marissa Paternoster of Screaming Females, women are increasingly shaping the guitar conversation. In a world where the narrative about guitar and guitar music is often pretty negative, AAARTH shows what a diverse instrument the guitar can still be.
"I feel disheartened when I hear about guitar companies struggling, for example," she says. "But I'm not afraid. There's going to be a new appreciation for wanting to learn an instrument and a craft, and realising you have to put time and heart into something. The live experience is a very hard one to replicate. You might be able to make things easy in other ways but I hope that people on stage, playing instruments and feeling the real soul and bare bones, isn't something that's going to go away."
The Joy Formidable's new album, AAARTH, is out now on Hassle Records.The post Interview: Ritzy Bryan of The Joy Formidable appeared first on The Guitar Magazine.
Source: www.guitar-bass.net