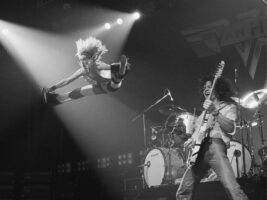 Is Van Halen's Jump now a Christmas song?
Van Halen's most successful track, 1983's Jump, is now (apparently) a Christmas song, as it has been used in a new festive advert in the UK.
Plenty of songs have made it even bigger after being featured on Christmas-themed adverts – Keane's Somewhere Only We Know, covered by Lily Allen, and Oasis' Half The World Away performed by Aurora were both used for John Lewis adverts during the Christmas period.
READ NOW: Paul Gilbert: "All the David Lee Roth-era Van Halen records were monuments of excellence to me"
In a new advert for fast food chain McDonald's, Van Halen's Jump is the lead track. The song was originally released as the band's lead single from their album 1984. It landed the number one spot on the US Billboard Hot 100 Chart when it first landed.
Funnily enough, it was also originally launched in the festive month of December all those years ago. So maybe it's not too absurd after all…
Check it out below:
In other Van Halen news, Sammy Hagar had said last month (October) that despite him thinking a reunion wouldn't be the same without Eddie Van Halen, he is disappointed that a tribute show of some kind never materialised.
"As far as the tribute goes, I'm so disappointed how they've handled everything, including when I left the band, what they did, and that," he said on the Rock of Nations podcast.
"I don't know – the dysfunction in that band… When I was in the band the first nine years, we got along like fricking brothers and sisters and we were happy together and one big family."
He added: "Things went wrong. Drugs and alcohol are a band thing when it turns ugly, and it's just never been the same. And for them not to have done something for Eddie Van Halen, the greatest guitar player in the world, the greatest rock musician, I'm telling you… It's ugly, but it's not my job."
The post Is Van Halen's Jump now a Christmas song? appeared first on Guitar.com | All Things Guitar.
Source: www.guitar-bass.net