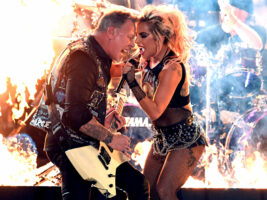 "It was a mess": What really happened during Metallica's infamous Grammys performance with Lady Gaga
Metallica's guitar tech has explained what really happened during the band's infamous 2017 Grammy Awards performance with Lady Gaga, in which James Hetfield's microphone was cut off.
READ MORE: "It's a very interesting idea…": Dave Mustaine on the possibility of Marty Friedman rejoining Megadeth
There were mixed accounts of what actually happened at the time, some people saying a stagehand unplugged the mic by mistake while others claimed a stage extra had stepped on the cable to unplug it at the base.
And in a new interview with RJM, longstanding Metallica tech Chad Zaemisch has revealed that the latter is the closest to the truth.
The first problem was that the band had to use a different crew than usual. The second was that there were numerous extra performers on stage. Zaemisch explains, "We went out to do the show – they had taken a bunch of… I guess they were actors or something, to stand behind the band on either side, to jump around and be all excited. This was the big song with Lady Gaga. She's got a wireless mic, that's cool."
And, the crew had to patch two cables together, because they needed a longer cable. Somebody who was on stage jumping up and down accidentally jumped on the connector, unplugging Hetfield's mic. But with so much going on on stage, it was difficult to work out the root cause of the issue. Eventually, Zaemisch sussed it out, and plugged the mic back in.
Hetfield had already knocked the mic stand over by this point, however, and didn't see Zaemisch sort the mic out. Then, according to Zaemisch, the front of house may have turned the mic off.
"[Hetfield] went to go speak into it again," explains Zaemisch, "And it still wasn't working. Or it wasn't working in his ears, but it was working out through the broadcast truck or something. It was a mess. And I can't remember if he knocked it over again or whatever. But yeah, at the end of that, that was pretty miserable."
Zaemisch also bemoans social media in the interview: "This is the pitfall of social media and all of these things," he says about the moment. "If you had a bad show, you load it out, and it was gone and done forever. Now, we record everything. Everybody's got their phones out. Every moment is recorded. So if something goes wrong, it's like everybody hears about it."
You can watch the interview with Zaemisch here:
The post "It was a mess": What really happened during Metallica's infamous Grammys performance with Lady Gaga appeared first on Guitar.com | All Things Guitar.
Source: www.guitar-bass.net