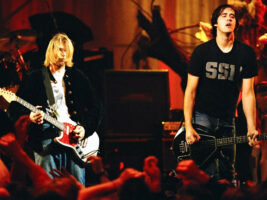 "It was really snarly": Krist Novoselic on the Kurt Cobain solo he thought was "terrible"
Krist Novoselic has opened up about a Kurt Cobain guitar solo on Nirvana's In Utero that he thought sounded "terrible".
READ MORE: Now and Then, the final Beatles song brought to life by AI, is officially here
Speaking to Conan O'Brien in a new interview alongside Dave Grohl and In Utero producer Steve Albini, the bassist reveals that the members had disagreed on some of the decisions made on the band's final studio album.
In particular, Novoselic recalls his dislike for a guitar part Cobain recorded for the track Heart-Shaped Box, saying [via Killer Guitar Rigs]: "For Heart-Shaped Box… I didn't like the way that solo was. It was too intense. It was really snarly."
"And I'm like, 'Well, you know, this song is a really pretty song. And it's a sad song in some ways.' I think I used a term like, 'This sounds like you just threw this abortion on the floor.' That's what I said, 'All of a sudden, there's just this abortion on the floor, this is terrible.'"
During the chat, Grohl also looks back on the making of In Utero, a process he found incredibly "exciting" given the way Cobain went about doing things.
"When we were making the record, we did all the instrumental tracks first," he says. "I don't know if Kurt sang any of the songs live. It was all just the three of us doing the instrumental tracks first live in a room without really having ever heard what Kurt was going to sing. Or even how he was gonna sing it. Like his melodies and patterns — most of these things, I just listened to them as instrumental."
"So it was always exciting, like a mystery, knowing like, 'Oh, he's in there singing this track today', and wondering what it was going to sound like when he was finished."
Grohl continues: "He always braided two simple lines together in a way that was almost unpredictable. And he would go from maybe a gentle voice to a scream, or maybe a minor key to a major."
"But he would do it in this way that was beautifully patterned, which I always thought was really cool and really simple. Ultimately, most everything that he did I thought was simple but really smart."
The post "It was really snarly": Krist Novoselic on the Kurt Cobain solo he thought was "terrible" appeared first on Guitar.com | All Things Guitar.
Source: www.guitar-bass.net