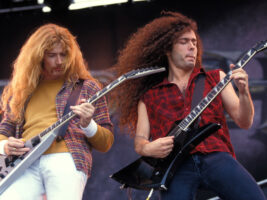 "It's a very interesting idea…": Dave Mustaine on the possibility of Marty Friedman rejoining Megadeth
Dave Mustaine has spoken about the possibility of Marty Friedman rejoining Megadeth , more than two decades after the legendary shredder left the band.
READ MORE: Dee Snider says he wrote Twisted Sister's biggest-selling album in 45 minutes
In a new interview with Ultimate Guitar, Mustaine is asked about working with Friedman – who has appeared on stage with Megadeth twice in the last year – in the context of lead guitarist Kiko Loureiro's continued unexplained absence from the band.
When asked whether there are any plans to work with Friedman again, Megadave describes it as an "interesting idea," and says, "Marty is a really talented person. I don't know for sure, but I think this is an area where I need to just talk with my partner and see how he feels about having another guitar player come up there and jam.
"Because sometimes guys get their feelings hurt, and I don't know that that's possible between Kiko and Marty – because I think they both have a really high admiration of each other. But more importantly than what I would do with Marty right now is what I'm going to do with Kiko – because I love the guy and I want him to get whatever he's going through worked out."
Loureiro, who's been with Megadeth since 2015, is still a member of Megadeth but has stepped away on a temporary basis, with Teemu Mäntysaari of Finnish metal band Wintersun stepping in for the recent tour dates.
"He's at home, and he's soldiering on – for lack of a better term – and working through whatever it is he needs to get through," explains Mustaine of Loureiro. "Out of respect for him, I didn't pry and ask what exactly it was – because it's really none of my business unless he tells me. But I think for any of the fans that are going to say, 'How's it going to sound? What's it going to be like?'
"Don't worry. I've picked good guitar players in the past, and I train them well. Teemu is very capable of playing these songs. In fact, we're adding new songs to the set. That is really exciting, too. I wish Kiko the very best – I love him, and I hope to get some good news from him soon."
The post "It's a very interesting idea…": Dave Mustaine on the possibility of Marty Friedman rejoining Megadeth appeared first on Guitar.com | All Things Guitar.
Source: www.guitar-bass.net